Tongren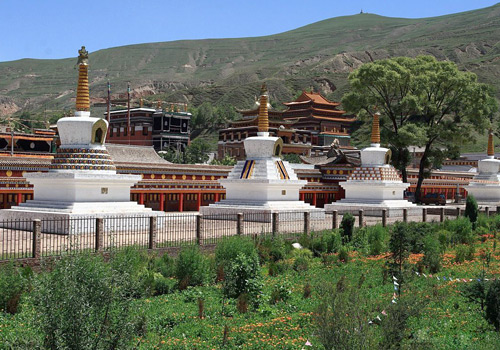 Tongren in brief
Located on the south of Qinghai Province, Tongren was a nomadic region in history. It is a great place to see the most real culture, architecture and sightseeings of China's northwestern area. In the exchange center of Tibetan culture, Central Plain Culture and Khampa culture, Tongren plays an important part of the cradle of Regong Art which consists of Tibetan-style scroll painting, barbola and sculpture. Besides, it became an important agricultural center during the Han Dynasty (206 BC - 220 AD). This trend continued throughout the Tang (618 - 907) and Yuan Dynasty (1206 - 1368) all the way through to the end of Qing Dynasty (1616 - 1911).
Agriculture - It is considered as the "Hometown of Yellow Fruit" because of the Ren Long Wu River valley which has the rarely seen yellow pear. This kind of yellow pear warms the stomach and strengthen the spleen. Moreover, the rich wild plants or fruits in this area make it very popular among the people who'd like to collect some valuable medicinal materials. Tongren also provides very good mutton, hike, nap, cow suede clothes and etc.
Art - Tongren County is the original place of Regong Art, the hometown of the famous Tibetan Painting, and also the only national culture city in Qinghai Province.
Sightseeing Highlights - What to see in Tongren County?
Long Wu Temple - Great place to appreciate Tibetan Buddhism architecture and culture. The temple is filled with rare and valuable artifacts, as well as several imperial artifacts including seals used by the emperor of the Ming Dynasty.
Kan Bu La National Forest Park - Unique Danxia landform, abundant plant resource, strong religion atmosphere, friendly people, Li Jia Xia Hydropower Station...
Rabkong Art Museum - a famous historic and cultural city located in picturesque southern Qinghai, in the Tibetan Nanzhou County.
Wutun Temple - located in the Wutun village just outside of Tongren, the Temple is divided into the "lower" and "upper" temple. This classically styled temple is filled with ancient Tibetan treasures: frescos and weavings.
Tongren offers so much more for the visitors that you need to discover them by yourself.