Maiji Caves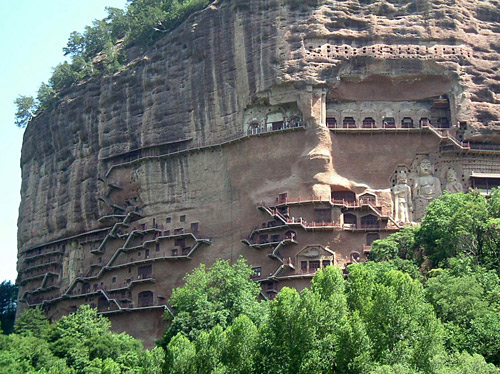 More Photos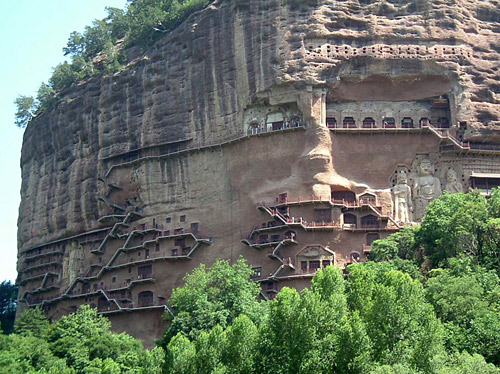 Maiji Mountain locates 45 kilometers southeast of Tianshui City of Qinghai Province. The mountain is only 142 meters high but is in a peculiars shape with fantastic grottos on the cliff of the mountain. As one of the four great grottoes of China, it has been put under the state protection.
The construction of the Maiji Grottoes on Maiji Mountain was started from 384 A.D. and the grottoes were repaired and expanded during the following hundreds of years. It is rare that Buddhist caves were cut on such steep cliff in China. Today there are still 194 grottoes existing on the Maiji Mountain, with over 7200 clay sculptures and stone carvings and 1300 ㎡ mural made in different dynasties. One of the outstanding features of the Maiji Grottoes is that the caves were constructed on precipitous locations and what connects each other is the plank paths built along the face of the cliff. Tourists who walk on the paths can feel the grandness and arduousness of the project.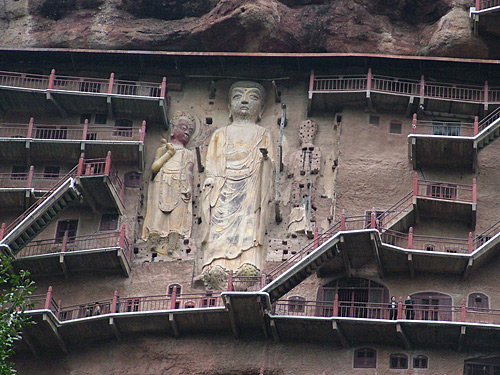 Being famous for its elegant clay sculptures, the Maiji Grottoes are regarded as a "world art treasure-house". If the Dunhuang Grottoes is a big exhibition hall of mural, then the Maiji Grottoes can be regarded as a big sculpture gallery. The sculptures inside the caves were made from 4th – 19th century, in the heights between 20 centimeters and 15 meters, reflecting characteristics of different times.
Quick Questions
Our team is waiting for your questions. Please feel free to ask us any questions you might have about our China package tours, Chinese culture, or the sites available. We will gladly help you with any special needs you might have and all questions, like our trip designing is completely free of charge.