Taxkorgan Cuisine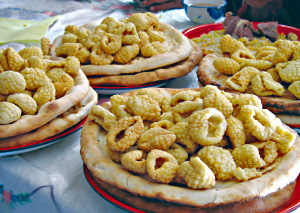 Taxkorgan is inhabited by Tajik nationality, the daily main foods of which are dairy products, highland barley and meat. In general, Tajik eat nan (馕, a leavened, oven-baked flatbread) with milky tea for breakfast, cooked wheaten food for lunch, and wheaten food with meat for dinner; and there is no vegetable appears on Tajik's table. Featured foods in Taxkorgan are milky tea, nan, milky paste, deep-fried dough cake, plov, cheese, milky porridge, and so forth.
Milky tea, the daily drink of Tajik, is the boiled black tea and brick tea with water, and then mixed with cooked fresh milk.
Nan, a round leavened, oven-baked flatbread and the staple food of Tajik, is made of flour, or highland barley with yak butter.
To make plov, firstly to heat up the yak butter, stir-fry the mutton pieces to be medium, and then to add in water, when it is boiling, add in rice, salt, onion and the like, and at last, to braise the mixture with slow fire till the plov is done.
Cheese is a daily food in winter among Tajik. To boil the milk and add in some yoghourt to split the milk from moisture; to eliminate the moisture and dry the milk dregs, and the cheese is done. Cheese is a little bit sour but with rich nutrition.