Taiwan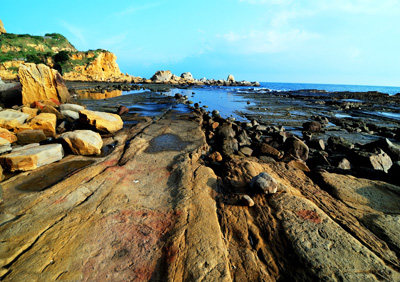 Taiwan, with 88 islands including the Taiwan Island, the Penghu Islands, the Diaoyu Islands, the Chiwei Islets and other small islands, has been an "island chain province" as well as the largest island of China since the ancient time. It is located off China's south-eastern coast, backing onto the Pacific Ocean in the east, neighboring Fujian Province across the Taiwan Straight in the west, leading into the Bashi Channel and the Philippians Islands in the south and facing the East China Sea in the north. Taiwan Island itself has a peculiar shape - it is long and slender, 194 kilometers from north to south, and 144 kilometers east to west.


Being around 300 kilometers in length and less than 200 kilometers in width, the Taiwan Strait is a narrow body of water that separates Taiwan from the mainland of China. At its narrowest point near Fujian Province the channel shrinks to just 130 kilometers wide and it is possible to see Taiwan on a clear day standing on the mainland in Fujian. The Taiwan Strait is a crucial transport corridor, connecting south and north China as well. Besides, together with the Miaodao Islands in North China, the Zhoushan Islands in East China and the Hainan Island in South China, Taiwan also acts as a natural barrier against naval attacks and has become known as "bamboo fence protecting 7 provinces".


Taiwan has secured a reputation as a popular tourist destination with mainlanders enviously calling it "the beautiful and prosperous island of treasures", and most of the scenery in Taiwan consists of craggy peaks, thick forests, copious waterfalls and amazing coastline.


Taiwan is one of the few tropical highland islands in the world. Apart from some flatlands in the western coast, around 2/3 of the island is of uneven terrain and rock and some of the mountains really display amazing natural beauty. Of all them, with Ali Mountain rising over 3997 meters above sea-level, a truly astonishing sight as it rises over the rest of the landscapes in Taiwan.


Taiwan also has many sheer cliffs, short but rich rivers and lots of waterfalls. There is also an abundance of hot-springs across the island, rich in minerals which have proven healing and restorative qualities, attracting many both domestic and overseas travelers. In addition, the Suao cool springs of Yilan County in northeast Taiwan are very rare all over the world.


The western side of Taiwan has several broad and straight beaches. Backing onto to rich and green forest, gentle ways lap against the shores of the island. It is the perfect location for a relaxing easy holiday. The northern part of the island is also home to abrasion geomorphy with uncanny natural workmanship, forming many wonderful sights and getting the name of "Dragon Palace at sea".