Biking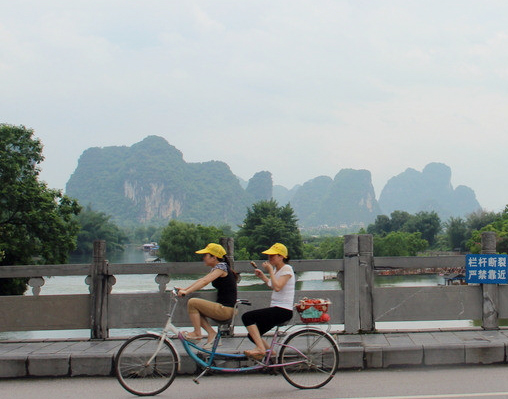 In Yangshuo, either in the streets or in the trails, cycling people in small groups are seen everywhere. Since early in 1980s, biking has been a single popular activity in Yangshuo, and it never declining. No doubt a visit to Yangshuo could not be complete without a day on bicycle.
For years, biking is popular with tourists as a healthy and free way to get a great experience in Yangshuo. Some families of three ride a three-seat bike swaggering through the street, some are crazily racing with friends, and some show off their trick-cycling. As long as time permit, you can make a time of biking to the adjacent villages, freely enjoy the countryside scenery, enjoy the waters and hills of Yangshuo, visit Moon Hill, Camel Hill, the Big Banyan Tree, watch beautiful sunset on the bank of Yulong River, and closely see local villages' life. You can also incorporate a rock climbing, bamboo rafting, or a short beak in a teahouse of the river bank into your bicycle tours around the area.
Definitely Yangshuo is a biking paradise with countless village trails and paths leading through some of the most magnificent scenery. Routes are not fixed and range from easy to strenuous in difficulty. Some are very popular and close to main roads, and some are really get off the beaten track with impressive scenery. You can cycle you own one freely at a leisurely pace. Bicycles can be rent all over the Yangshuo town center, in hotels, West Street, and everywhere, charges from 10 – 50 Yuan depending on the size and quality.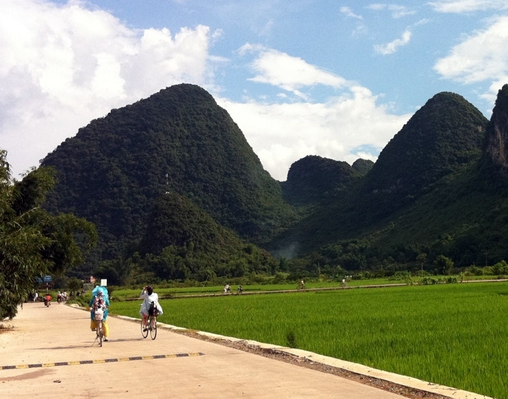 Classical biking routes in Yangshuo
Route 1
Yangshuo – Big Banyan Tree – Moon Hill – Moon Village – Fushan Temple – Yan Village – Tianjiahe Village – Yangshuo (About 20 kilometers, a leisure route suitable for most people.)
Features: this classical biking route in Yangshuo leading to the best landscape, idyllic scenery and shepherd boys and their buffalos.
Highlights:
Gongnong Bridge and amazing scenery on both sides of it;
Beautiful Yulong River scenery;
Moon Village to enjoy Moon Hill or in a family restaurant for a break and lunch;
The superb views and fascinating sunset at the dam of Tianjiahe Village.
Route 2
Yangshuo – Gongnong Bridge – River Bank Villa – Yangshuo Mountain Retreat – Tongmen Cave – Fenglou Village – Moon Hill – Big Banyan Tree – Yangshuo
(About 20 kilometers, a leisure route suitable for most people.)
Features: a route generally surrounds Big Banyan Tree Scenic Area.
Highlights:
See Gongnong Bridge and amazing scenery on both sides of it;
Enjoy beautiful Yulong River scenery while have a tea on the river bank;
Bike through bamboo grove and have a lunch in Yangshuo Mountain Retreat;
Take a break in Tongmen Cave to see rock climbers' challenge there.
Route 3
Yangshuo – Fuli Town – Chelang Hill – Xingping Ancient Town – Stone City – Putao Town – Yangshuo
(About 60 kilometers for one way, an advanced route suitable for skilled bikers which requires good physical power and to be finished for two days; stay one night in Xingping Ancient Town.)
Features: pleasant countryside views typical Li River scenery along the way.
Highlights:
Enjoy the county view, Bilian Peak and Shutong Hill at Yangshuo Bridge;
Visit ancient streets and big fans workshops in picturesque Fuli Ancient Town;
Stroll in Ancient Street of Xingping;
Enjoy the superb scenery of Xingping and amazing sunrise on the top of Laoshanzhai Hill;
Climb Hebao Hill to enjoy the famous scenes Yellow Cloth Reflection and Nine-horse Fresco Hill.
China tours for a Yangshuo biking experience:
3 Days Guilin Tour
4 Days Guilin & Yangshuo Tour
5 Days Leisurely Yangshuo Hiking & Biking Tour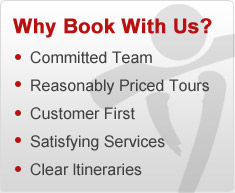 Design your own tour with our help to meet your unique interests. You don't have to compromise. Do exactly what you want to do! Let us assist you to tailor-make your own China experience.

What Our Customers Say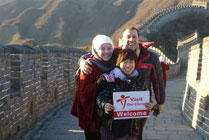 I hope this letter finds you well. We finally arrived home from our trip last Thursday the 17th. As promised I am writing to you about our experience in China and we thank you very much for your organizing. On the whole we had a wonderful time and were very well looked after...
Read more testimonials...