Sanjiang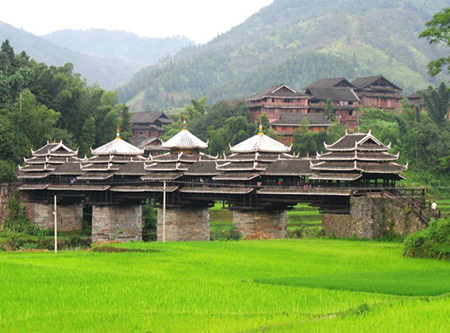 Sanjiang in brief
Sanjiang is a Dong Autonomous County lying in the North of the Guangxi Zhuang Autonomous Region, Southern China. Located just a few kilometers away from the Guizhou Province border to the northwest and the Hunan Province to the northeast, Sanjiang connects with the Longji Terraces of Longsheng and is a fresh tourist destination not far away from the marvelous city of Guilin. Sanjiang, literally meaning "the three rivers" as it is actually crossed by the rivers Xun, Miao and Rong, enjoys a monsoon subtropical humid climate. As a part of the Guangxi, this particular county is known for having the largest number of Dong minority people (172 000, 6,85% of all China's Dong people). Dong people are famous for their unique folklore, customs and colorful costumes and enjoy a rich traditional ethnic culture and history in China together with other 8 minorities present too in the area: the Zhuang, Miao, Yao, Manchu, Hui, Maonan, Gelao and Yi. Travelers having an extra day to spend in Guangxi after Longsheng, Yangshuo or Guilin will for sure appreciate to visit this remote county where flourishes great highlights. The must-see attraction of Sanjiang: the Chengyang Wind Rain Bridge is a great spot for enjoying the typical Dong architecture. Ranked as one of the most worthy road route into Guizhou, Sanjiang will make you discover the richness of Dong people, for a deeper insight in China's diversity.
History of Sanjiang – Ancient Dong nationality culture and traditions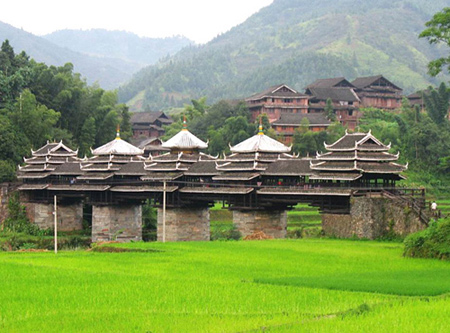 Sanjiang area's history can be traced back to the Ming Dynasty (1368 - 1644) according to historians' and archeologists' evaluations of the surrounding buildings. Created in 1952, the Sanjiang Dong Autonomous County itself is the only one in China where live such a great number of Dong nationality people. The famous Chengyang Wind and Rain Bridge that travelers can see while visiting the city was built in 1916 and figures as a top highlight in the area and on travelers' way to Guizhou Province. With their long and rich traditional and cultural history, Dong people have one of the richest Chinese minority cultures. Culture in festivals, songs, dances and events are totally part of their identity, the Dong culture is a gorgeous one to discover in China.
Sanjiang nowadays – An amazing backpackers stop-off point homeland of the Dong people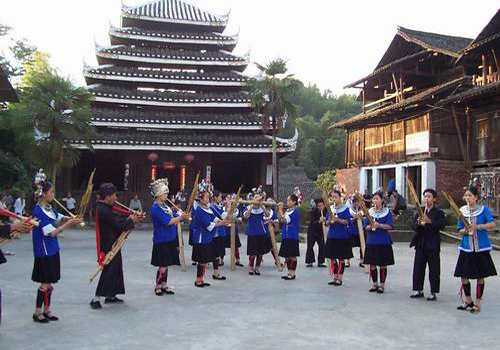 Today Sanjiang is a tourist destination becoming more and more popular, especially among travelers and backpackers doing a roadtrip in Southern China. The county is served by many buses doing the way to and from Guilin (167 km), Liuzhou (230 km) Wuzhou and Longsheng. Comprising eight traditional Dong minority villages, Sanjiang Dong Autonomous County is a highlight for travelers to look for an insight on China's minority people. In Sanjiang, visitors can enjoy the typical Dong minority architecture of the Chengyang Wind and Rain Bridge (程阳风雨桥) in Chengyang Village, also called "Linxi Wind and Rain Bridge", which is situated 20 kilometers north of Sanjiang. In total, the county comprises 108 Wind and Rain bridges and 159 Drum Towers used to announce important things to the population or simply to perform plays. The Mapang Drum Tower is a must-see tourist spot on your way to the country too. Sanjiang is also a place where travelers enjoy some specialities such as local markets, traditional clothes, tea, bamboo, oranges and chestnuts. The sour food served in the county is also a specificity of the county that you may look for. A tour to this home of Dong people is a unique experience of China's minorities.