Sanjiang Drum Tower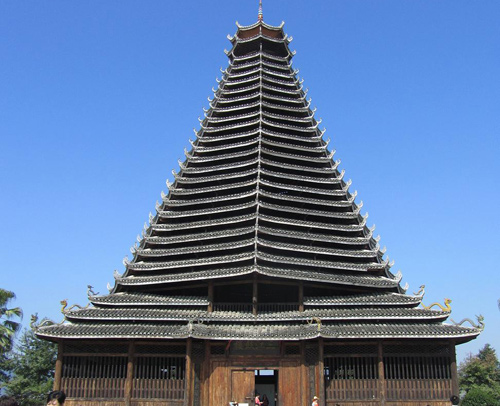 More Photos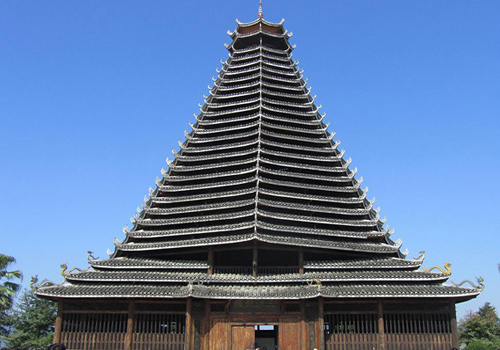 Wooden drum towers are one of the ethnic features of the Dong Minority culture. Sanjiang Drum Tower, which was completed in 2002 as a token of congratulation when it was the fiftieth anniversary of Sanjiang Dong Autonomous County, is most famous among all ethnic minorities' drum towers in China. It provides the local Dong minority with a good site to undertake ethnic assemblies and festival cerebration.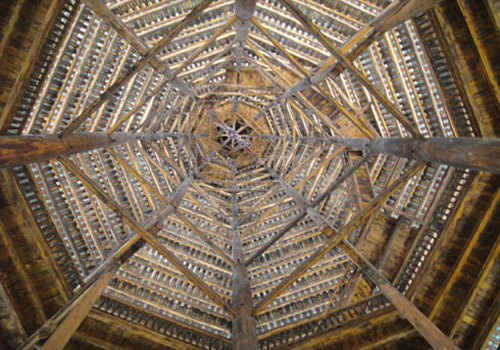 Hailed as "the first Dong drum tower in the world", Sanjiang Drum Tower was exquisitely constructed by a folk architect team led by Master Yang Siyu who was of Dong minority. The body of the tower is made up of wood without using any nail but marvelously keeps solid. It has four floors of viewing stand, with the highest one located at the 25th floor. On the foundation support of the tower, exquisite carvings reflecting the Dong's daily life can be seen. With the functions Dong minority culture's symbol and a famous tourist site, Sanjiang Drum Tower has made four records among its sister constructions:
1. In area: Together with the attached square, Sanjiang Drum Tower occupies an area of 4000 square meters in total, with the base of the tower covers 600 square meters.
2. In height: The tower is 42.6 meters high.
3. In floor: Sanjiang Drum Tower has 27 floors of turnup tile-eaves totally, presenting in a shape of pyramid.
4. Biggest backbone: Each of the four major pillars of the tower is over 70 cm in diameter, with two of them being 208 years old and the other two being over one hundred year. That is rare in traditional tower construction in China.
Quick Questions
Our team is waiting for your questions. Please feel free to ask us any questions you might have about our China package tours, Chinese culture, or the sites available. We will gladly help you with any special needs you might have and all questions, like our trip designing is completely free of charge.