Sanjiang Bird Nest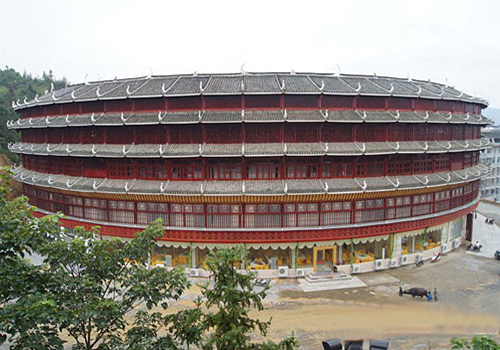 More Photos

Sanjiang Bird Nest (Chinese:三江侗乡鸟巢) or Eastern Arena (Chinese:东方竞技场) for bullfighting in Sanjiang County is located in Guyi Town Scenic Zone, Sanjiang County, Liuzhou City, Guangxi Zhuang Autonomous Region. It is a large-scale timber structured architecture built in 2010, and put into service on Oct 1 of the same year. Bird Nest covers an area of 6400 square meters, which is a round structure with a diameter of 80 meters and a height of 27 meters.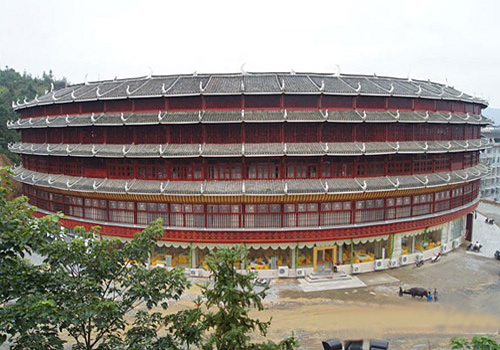 Bird Nest in Sanjiang County is a comprehensive stadium for bullfighting, ethnic singing and dancing, and other recreational activities. This arena got its name as Bird Nest from the thousand model birds on the roof as well as its similar shape to the famous Bird Nest in Beijing. It was built with great Dong ethnic characteristics in exquisite design, and was completed totally by local Dong people.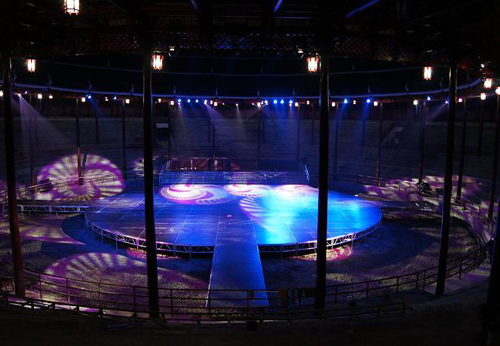 With three floors, the Bird Nest can hold about 6000 people at a time. 66 VIP rooms are set on the second floor where guests can enjoy tea and snacks while watching performances. In the third floor, 66 exhibition rooms of Dong customs and folklores, plus a more than 200 meters gallery of peasant paintings constitute a small-sized museum for Dong culture. On November 19 of 2010, a splendid painting with rich local features was accomplished by about 20 local peasant painters for two months. This painting vividly portrays the local nature beauty as well as Dong people's customs and habits. It is reported as the longest peasant painting in the world with a length of 125 meters and a width of 2.5 meters, which is applying for a Guinness World Record.
Quick Questions
Our team is waiting for your questions. Please feel free to ask us any questions you might have about our China package tours, Chinese culture, or the sites available. We will gladly help you with any special needs you might have and all questions, like our trip designing is completely free of charge.