Dong Minority Villages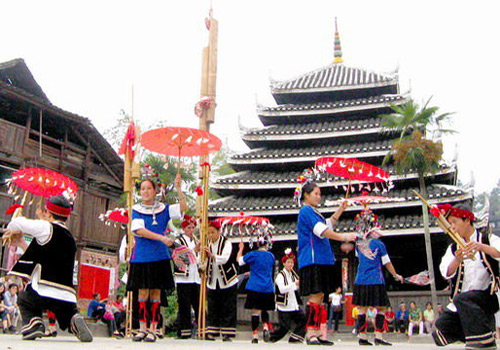 More Photos

Located in Liuzhou City, Guangxi Zhuang Autonomous Region, Sanjiang Dong Autonomous County is a region with numerous Dong minority villages traditionally inhabited by the Dong people. The population of Sanjiang County is about 350 000, of which 57% are Dong people. Dong people prefer to build their houses on valleys with hills and rivers at an altitude of 500 to 1000 meters. No matter which Dong Minority village visitors in, it always presents as a beautiful painting with rich vitality of life.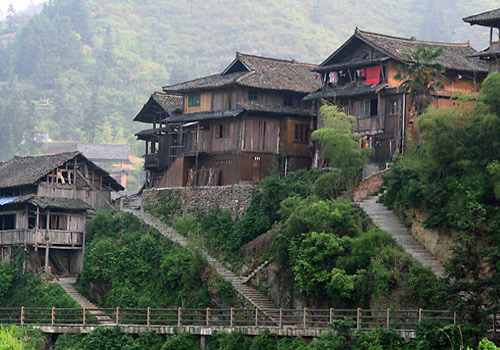 Dong Minority is a Chinese southern minority with a long history and rich culture. It is a group with fine craftsmanship in weaving, knitting, embroidery and silver making. Dong people prefer to tie their head with cloths and their dressing are gorgeous in kinds of styles; all the cloths and clothes are made by themselves mainly in blue, white, green, purple and black. They are also fond of silver jewelry, the more and heavier of the silver people wear, the more beautiful he is according to Dong tradition.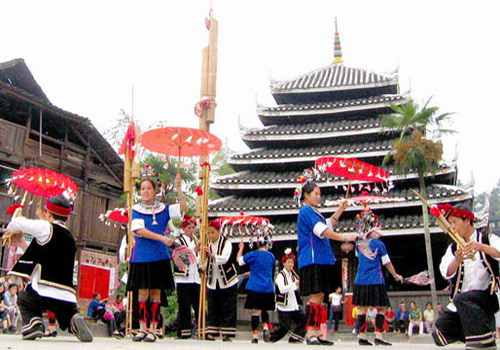 Dong people are traditionally live on rice with skilled cultivating on famous terraces. It is also an ethnic group skilled in wooden architectures with no nails. The unique wooden architectures of inhabited houses, drum towers and wind and rain bridges are the main features of Dong Minority. A typical Dong house is a three-storey one built on wood pillars; people live in the second floor, and the third floor is used as a storage for food while the first floor is reserved for animals and firewood. Wind and rain bridges and drum towers are in large number and mass distributed in Sanjiang; according to preliminary statistics, there are 108 wind and rain bridges and 159 drum towers in the county, including the famous Chengyang Wind and Rain Bridge and Sanjiang Drum Tower.
Quick Questions
Our team is waiting for your questions. Please feel free to ask us any questions you might have about our China package tours, Chinese culture, or the sites available. We will gladly help you with any special needs you might have and all questions, like our trip designing is completely free of charge.