Danzhou Ancient Town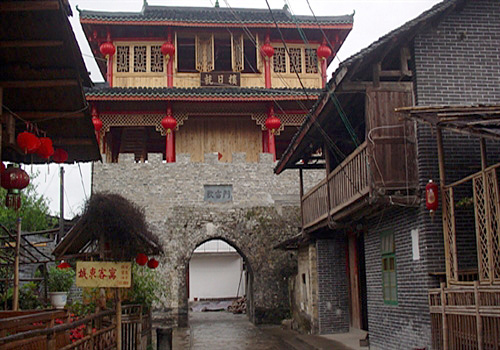 More Photos

Danzhou Ancient Town (Chinese:丹洲古镇) is about 55 kilometers to the south of Sanjiang County of Liuzhou City, Guangxi Zhuang Autonomous Region. It is a small island with beautiful landscapes, historical relics and ancient residential houses. Built in Ming Dynasty with a history of more than 400 years, Danzhou is surrounded by Rongjiang waters. The fresh air and peaceful environment here make it a perfect secluded resort from the bustling world. The lush lawn, bamboo grove, ancient banyan, riverbank and unpolluted waters can easily ease the tensions; historical and cultural relics that can be seen everywhere unintentionally promote the spirits; and simple local people and blooming flowers in their courtyard make visitors just feel being at home.
Historical and Cultural Relics in Danzhou Ancient Town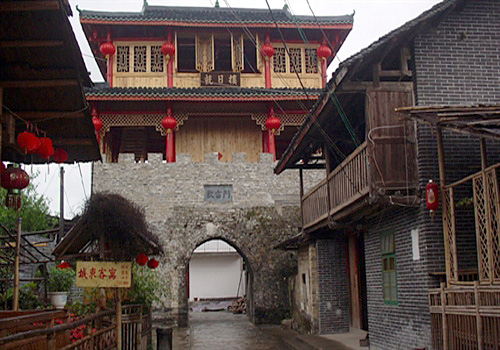 Ancient City Wall & Ancient City Gates – The original ancient city wall was built in Ming Dynasty in a length of 879 meters, consisting of four gates, East Gate, South Gate, West Gate and North Gate, on each of which stands a gate pavilion. Just as other general city walls, the City Wall in Danzhou plays an ordinary defense role for battles; in addition, it had prevented the heavy flood which was once recorded in 1902. Today, only the North Gate and the East Gate can be seen in the town. The North Gate is well-preserved and some historical events can be learned from the stone tablets, while it is a regret that the East Gate was removed in 1950s and only the arch door is left there to welcome guests from home and abroad.
Tianhougong – Tianhougong (Chinese:天后宫), also called the House of Min and Yue (Chinese:闽粤会馆. Min - short for Fujian Province, Yue - short for Guangdong Province), and the engraved characters of these two names still can be seen on the top of the gate. In later Ming Dynasty and early Qing Dynasty, with its unique geographical location, Danzhou became a key passage of Southeast China as well as a center of politics, economy and culture. Merchants and scholars got together here, and then the House of Min and Yue was thus built by a rich merchant Xue. This architecture is an imitation of the Matsu Temple in Zhangzhou of Fujian Province, and still retains its magnificence today. 300 years have passed, the House of Min and Yue is not a popular and bustling place any more, and it is just a site for visitors to memorize the flourishing past days.
Danzhou Academy – Located in the east of Danzhou Ancient Town and covering an area of 1340 square meters, Danzhou Academy was once a well-organized education institute. The architecture is well-preserved among the dense green trees and sweet-scented osmanthus, which is the biggest architecture in Danzhou Ancient Town in traditional style, and now is the Danzhou Primary School.
Danzhou Food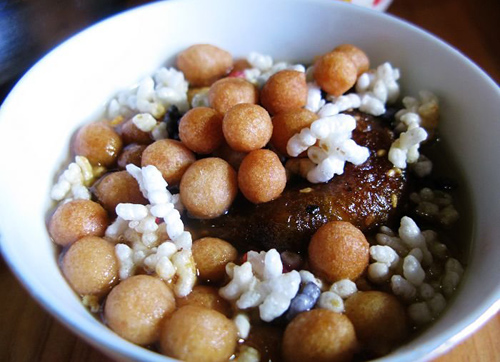 Oil Tea – Oil Tea is a staple of the local food in Northern Guangxi, and it is also the breakfast of Danzhou people. The oil tea is a health food which can dispel cold, prevent heatstroke and warm the stomach according to traditional Chinese medical theory. It has a special flavor with plenty of ingredients and side dishes; flavors also can be chose in salt, sweet or chili according to the personal preference.
Farm-flavored Food – Native chicken, duck meat, pork, and fresh vegetables without any chemicals are the favorite of people from cities. Some visitors even take some back home when they leave.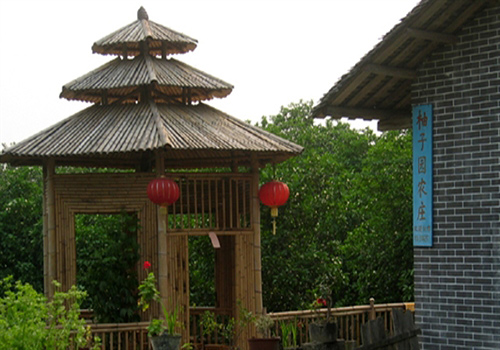 Pomelo – The pomelo forest is another attractive view in Danzhou Ancient Town. It is said that some pomelo trees are more than 200 years old. Every September, it is the Pomelo Festival as the autumn is the harvest season for pomelos, and many visitors come to the island for the first taste of the seasonal fresh pomelos.
Chongyang Glutinous Rice Wine – Chongyang Glutinous Rice Wine (Chinese:重阳糯米酒) is made on Chongyang Festival, or called the Double Ninth Festival, which falls on the 9th day of the 9th lunar month, a festival especially for climbing mountains. It is said that the glutinous rice wine made on that day is the sweetest of the year. Chongyang Glutinous Rice Wine is fragrant and sweet which can be enjoyed by people of all ages.
Accommodation in Danzhou
The accommodations in Danzhou Ancient Town are all comfortable family hotels. These family hotels are in different styles with respective features; they are remade from the spare rooms of the host and decorated in a comfortable way where guests just feel at home.
Quick Questions
Our team is waiting for your questions. Please feel free to ask us any questions you might have about our China package tours, Chinese culture, or the sites available. We will gladly help you with any special needs you might have and all questions, like our trip designing is completely free of charge.