Guizhou hosts ethnic arts festival
created: 2010-06-18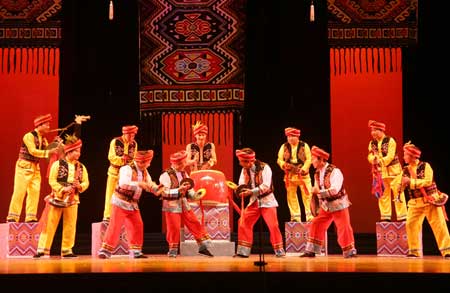 A performing season with the feature of a total of 36 quyi ethnic art forms is set to begin in the middle of July in Guizhou, a southwest province where various minority nationalities live, Jiang Kun said at a press conference in Beijing Tuesday morning. Jiang is the vice chairman of the China Quyi Artists Association and a well-known crosstalk performer.
Running from July 11 to 16, the performing season aims to stage various traditional art forms across China in areas where non-Han ethnic people live. This is the fourth tour of its kind, the first taking place in Inner Mongolia, the second in Guangxi and the third in Ningxia—all autonomous regions where ethnic groups live.
Jiang said that the 36 programs had been carefully selected from 47 programs that had been made available from ethnic groups across China. Performers of each program are expected to don colorful and elegant costumes and the atmosphere of each event will likely resemble the glitz and glamour of a fashion show.
A date has been set for a culminating gala that will wrap up the performing season, re-showcasing all 36 ethnic art forms. The finale's director Deng Lin said that the stage would be designed as a giant silver headdress in the vein of the Miao people, and would incorporate other Miao elements including drums and dancing.



Recommended China Guide: