Miaohua Hutong / Cotton Lane of Beijing
updated: 2010-05-18
A hutong's name often refers to its former function, so it's no surprise that Mianhua Hutong, or Cotton Lane in Beijing, the location of textile mills during the Ming Dynasty. Over hundreds of years, it went back to being a regular lane, until the arrival of General Cai E, eventual leader of the National Protection Campaign (Hu Guo Zhan Zheng, 1915-1916) that ended the brief, feudal rule of Yuan Shikai by chucking him off the thrown. Yuan brought Cai to Beijing to keep an eye on him in 1913, having wisely perceived the high commander of Yunnan province as a threat to power. From 1913 to 1915, Cai lived in Mianhua Hutong under Yuan's surveillance.



Mission of 'love'
Arrangements were made for Cai to live at No. 66 Mianhua Hutong, but when Cai realized Yuan intended to restore the old ways of feudalism, he became determined to escape back to Yunnan to build up a resistance.
According to legend, in order to throw Yuan off his trail, Cai developed a scheme to make himself look like an irresponsible partier, interested only in women and mahjong. During his frequent appearances in Ba Da Hutong, the former red light area in Qianmen, he met Zhang Fengyun - also known as Xiao Fengxian - a 17-year-old prostitute. Cai used Zhang as an excuse to feign a conflict with his wife, causing his family to leave Beijing and getting them out of potential harm's way. Yuan thereafter believed Cai was an incapable person, teasing him by calling him a "dissolute general."
Whether or not Cai and Zhang truly were in love remains a mystery, but Zhang appears to have cared enough for the general to help him escape by perpetuating Yuan's misperception of him. To this end, she became a frequent visitor at No. 66.
Yuan still didn't trust Cai, but eventually he relaxed his precautions enough that Cai managed to escape. Although Cai did write to her, he never saw Zhang again. Soon after, Cai began the nationwide campaign to remove Yuan from the throne, and succeeded, only to die in 1916 of laryngeal cancer at the young age of 34.
A century later, I knocked at the door of No. 66. The building in the back yard was once Cai's garage, but now it is a residence for Wang Dikai, 70, who moved in 30 years ago. Wang said that apart from retiled roofs and expanded kitchens, little has changed since he moved in. "About eight years ago, there was a note on the front door that said 'the former place of general Cai E'," Wang said, but "now there's no sign." The building is not a cultural relics protection unit, and the China Meteorological Administration's dormitory occupies this place; Wang pays regular rent to live in a building that endures as part of the legacy of Cai E.
Recommended China Guide:
About Our Company
China Travel Resources
What Our Customers Say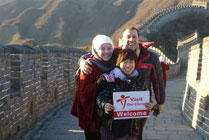 I hope this letter finds you well. We finally arrived home from our trip last Thursday the 17th. As promised I am writing to you about our experience in China and we thank you very much for your organizing. On the whole we had a wonderful time and were very well looked after...
Read more testimonials...