It's silver, but glittering
updated: 2008-08-15
BEIJING - Ukraine bettered China 45-44 to win the women's team sabre gold medal at the Olympic Games here on Thursday, the first gold medal at the Beijing Games for their country.
The United States downed France 45-38 for the bronze medal.
"Actually we became very relaxed after we defeated our main opponent Russia in the quarterfinals. We have realized our dream by winning the gold medal. We have made history," said Olena Khomrova of the Ukraine team.
"The huge desire to win prevented us from leading at the beginning. But after that we found we have nothing to lose, and gradually got on the right relaxed way," said Olga Kharlan of the champion team on the press conference held after the match.
Talking about the last hit which secured the Ukraine's victory, Olga Kharlan said: "I knew it was a pretty difficult situation, but I was very confident that I can win. So I was not very nervous at the time, and fenced in a very relaxed, a kind of freestyle way."
The champions said they were very grateful to their coach who was even more confident than they were.
"We lost the game because we were not psychologically-prepared, especially for Tan Xue. Ni Hong did a really good job today," said French coach of the runner-up team Chiristian Bauer.
On the press conference, Tan Xue of China admmitted: "It really is a pity that we could not win the gold medal."
It was Tan's second Olympics after Athens Games, where she finished with a silver medal in the individual event. She made an early exist in the individual event on Aug 9.
"We play up to our potential. The failure has nothing to do with our techniques, but with lacking experience," she said.
Bao Yingying, who lost 12 consecutive points to Ukraine in the final bout said: "We knew Ukraine was a very tough rival. We were too eager to win, some techniques were not used in a proper way."
The Chinese girls also expressed their many thanks to their French coach. "He helped us become more mature, and more confident. We made progress little by little under his guidance," said Tan.
"We were really sad after losing to Ukraine. Bauer came to us and said the silver medal meant a lot for him, as well as for us," Tan said.
About Our Company
China Travel Resources
What Our Customers Say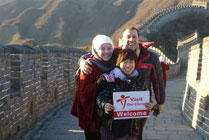 I hope this letter finds you well. We finally arrived home from our trip last Thursday the 17th. As promised I am writing to you about our experience in China and we thank you very much for your organizing. On the whole we had a wonderful time and were very well looked after...
Read more testimonials...