Your Position:
Home
China News
Qiang culture fights for world heritage status
Qiang culture fights for world heritage status
updated: 2008-07-29
Photographer Cheng Weidong felt a sense of great relief when he managed to reach Taoping village in Sichuan province a week after the deadly May 12 earthquake.
File photo of ancient stone towers in a Qiang minority group village in Maoxian County, Southwest China's Sichuan Province.
He thought it was a miracle that much of the 2,000-year-old Qiang minority group village, renowned for its ancient stone towers and blockhouses, was in good shape. After all, Taoping is just 17 km away from the epicenter of the quake in Wenchuan.
Moreover, not a single villager from the 98 households was hurt, and dozens of the stone towers, built more than 1,000 years ago, stood defiantly under the blue sky.
"What I saw was a world architectural miracle," said the 57-year-old photographer with Nationality Pictorial.
It is this miraculous feature that could fetch the structures international recognition because the central government has been trying to get them a UNESCO world cultural heritage site status.
Zhang Bai, deputy director of the State Administration of Cultural Heritage, said yesterday: "Their unique structure and outstanding quake-resistant feature make them a very eligible candidate."
During a group interview, organized by the 2008 Beijing International Media Center, Zhang said Taoping's application would be submitted in the next few years along with those of the Songshan Mountain, the Wutai Mountain and the Silk Road.
Though Taoping did not suffer much damage, some other places where the Qiang people live, such as Beichuan county, were devastated by the quake.
"We're going to set up a cultural protection zone for Qiang culture in Sichuan (this year) because it needs urgent protection," said Zhang Xu, director of the intangible cultural heritage department of the Ministry of Culture.
The Qiang cultural protection zone covers Beichuan, Wenchuan, Lixian and Maoxian counties.
Some anthropologists say the Qiang minority group descended from a legendary 21st-century BC Chinese emperor. Others say it is a lost Israelite tribe. Still others have traced its origin to other sources.
The Qiangs numbered only about 300,000, and as their misfortune would have it, almost all of them lived within 100 km of the epicenter, and lost about 10 percent of its population to the quake.The quake damaged or destroyed 23 national-level intangible cultural heritage relics.
Zhang Xu said the central and local governments will share the cost of setting up the zone and will try to rebuild Qiang villages, preserve the relics, give "Qiang cultural masters" more opportunities to practice their traditions and resume their festivals, and make video-clips in the Qiang language.

About Our Company
China Travel Resources
What Our Customers Say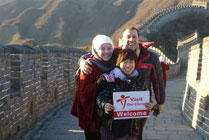 I hope this letter finds you well. We finally arrived home from our trip last Thursday the 17th. As promised I am writing to you about our experience in China and we thank you very much for your organizing. On the whole we had a wonderful time and were very well looked after...
Read more testimonials...