Dalian: a shining pearl of north China
updated: 2008-07-25
At the tip of the Liaodong Peninsula in northeast China's Liaoning province, Dalian is increasingly important in global trade due to its strengths in shipping, manufacturing, finance and tourism.
The city of 6 million residents is a hub for the Bohai Bay area and the northeast Asia economic region that faces Japan and both the Democratic People's Republic of Korea and the Republic of Korea across the Yellow Sea.
Shipping hub
With 1,906 km of coastline, Dalian's shipping network connects Bohai Bay and northeast China to ports across the globe. Its Zhoushuizi International Airport, the largest airfreight center in northeastern China, handles 130 daily domestic and international flights including more than 30 between Dalian and Beijing each day. Weekly more than 70 flights connect with Japan and over 40 serve South Korea.
Ships leave Dalian Port for more than 300 destinations in over 160 countries and regions. Over 70 percent of goods shipped by sea and more than 90 percent of foreign-bound trade containers from northeast China pass through Dalian Port.
Throughput at the port surpassed 165.44 million tons last year, up 13.9 percent over 2006, when it handled 3.81 million containers, an increase of 18.7 percent.
The port's ore and crude oil terminals each have a capacity of 300,000 tons. Another terminal is dedicated to shipping automobiles.
Test operations are now underway on a Yantai-Dalian train ferry across Bohai Bay to Shandong province.
The Dayaowan Bonded Harbor Area, which started operations in 2007 in the north of the city, is also part of Dalian's bid to become the international shipping hub of northeast Asia.
About Our Company
China Travel Resources
What Our Customers Say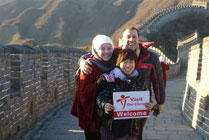 I hope this letter finds you well. We finally arrived home from our trip last Thursday the 17th. As promised I am writing to you about our experience in China and we thank you very much for your organizing. On the whole we had a wonderful time and were very well looked after...
Read more testimonials...