New high-speed train to link Hong Kong and Mainlandfrom September 23 start date, carrying 80,000 passengers a day
created: 2018-08-24
The Hong Kong section of the Guangzhou-Shenzhen-Hong Kong Express Rail Link will begin operation On September 23, reports Hong Kong's Ta Kun Pao.
The 26-kilometer section will connect Hong Kong with the high-speed rail network on the mainland.
The Guangzhou-Shenzhen-Hong Kong line will reduce the time for a train journey from Beijing to Hong Kong by at least two-thirds to just 9 hours.
Travellers will get direct access from West Kowloon station to 44 locations across the border, up from 20 announced earlier.
The MTR Corp will pocket 45 to 95 per cent of ticket fares to six short-distance stops in Shenzhen and Guangzhou – which will cost between HK$78 and HK$247 – with the rest going to the China Railway Corporation.
For journeys to destinations further into the mainland, such as Beijing and Shanghai, ticket prices will range from HK$216 to HK$1,239.
The government expects the express rail to earn HK$671 million within this year, while operating costs are estimated at HK$472 million.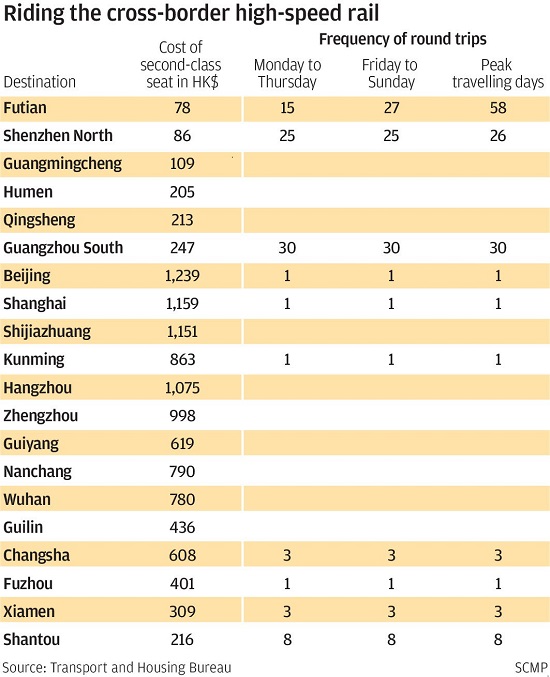 While the new service will take passengers from Hong Kong to Guangzhou in just 48 minutes – compared with two hours using the existing through-train service – it will be limited to only three pairs of non-stop trains making six journeys both ways per day.
The other rides, stopping at various stations in between, will take 50 to 71 minutes.
For a trip to Beijing on the express rail, the journey time is close to nine hours.
There will be 114 pairs of short-haul trains daily during holiday peak periods, while 70 and 82 pairs will run on weekdays and weekends respectively.
The 44 mainland destinations unveiled on Thursday are more than double the number announced earlier. The new stops include Guangming in Shenzhen and Shantou in Guangdong province.
As train fares are set in yuan, tickets sold locally in Hong Kong dollars will be adjusted monthly in keeping with exchange rates. A portion of tickets will be reserved for sale in Hong Kong.
Report from South China Morning Post