Dining week returns to Beijing
created: 2014-02-14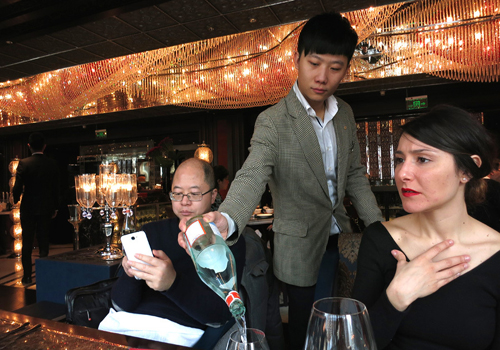 Organizer Alessia Frisina enjoys a meal with dishes specifically chosen for
Beijing
Dining Week 2014. From February 28th to March 9th, over 50 fine dining restaurants in the capital will be offering discounted set menus, designed to compile the best of what the city's top restaurants can offer. On February 18th, 11am, the online booking system will go live. Restaurant Week bookings can be made through the Restaurant Week website only. [Photo: CRIENGLISH.com]
Even after Valentine's Day, there'll still be many opportunity to sweep loved ones off their feet at Dining Week 2014. In Beijing, from February 28th to March 9th, over 50 fine dining restaurants will be offering discounted set menus, designed to compile the best of what the city's top restaurants can offer.
In China's metropolises, the number of high-end restaurants and the number of people interested in them continue to grow. Dining Week provides the perfect opportunity for people who are curious about fine dining to dive in, and for the connoisseurs to enjoy a discounted meal specially designed by some of Beijing's top restaurateurs and chefs.
Prices for three-course lunches will start at an impressively low 78 yuan, and three-course dinners at 168 yuan. Last summer's Beijing Restaurant Week saw 8000 people seizing the opportunity to fine dine the easy way.
The list of participating restaurants in the city continues to grow, and variety has become one of the foci for organizer Alessia Frisina. "We want as many different cuisines as possible," she says, listing off as many as she can recall. "Chinese, Japanese, French, Italian, Spanish, Malaysian, Vietnamese... Especially for Chinese people, it's an opportunity to try a different cuisine without worrying about what to order or how much the bill will come out to be."
Although Restaurant Week takes place across the globe, it's still reasonably new to China. Beijing is now in its fourth year. "Of course Shanghai and Hong Kong are leading the way," Frisina notes, "But as Guangzhou and Beijing become more international, they will follow."
Prize winners from last year like Whampoa Club and The Grange Grill participate again, along with a selection of newcomers such as King's Joy (Time Out's 2013 restaurant of the year).
The last time Restaurant Week rolled through the city, restaurants got booked solid, disappointing more than a few prospecting diners. On February 18th, 11am, the online booking system will go live. Bookings can be made through the Restaurant Week website only, so don't waste those cell phone batteries.
For more information about Restaurant Week and participating restaurants see www.restaurantweek.cn/lang/en.