Wanda building 'cultural and tourist town' in Harbin
created: 2014-02-10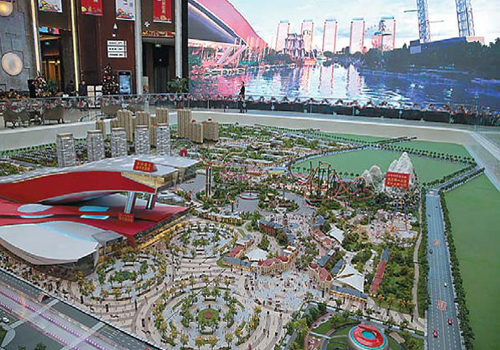 With a total investment of 20 billion yuan ($3 billion), the Wanda Cultural and Tourist Town project in Heilongjiang's capital city
Harbin
will one day become the largest commercial integrated investment for cultural tourism in the province, said Liu Ming, vice general manager of Harbin Wanda City Investment Co Ltd.
Located in Songbei district, the town is composed of "the largest cinema in northeastern China" and "the largest indoor ski park in the world," said Liu.
"The town is expected to welcome 20 million visitors every year, and more than 10,000 jobs opportunities will be generated."
The Wanda Cultural and Tourist Town project will be completed in 2017. An exhibition center showcasing models of the town is now open to the public. Niu Xianda / For China Daily
According to the data from Harbin Development and Reform Commission, the city has launched 118 new industrial projects of provincial- and municipal-level, with an increase of 73.5 percent compared with that of 2012.
Investment into Harbin is rising. Compared with 2012, the city attracted an additional 66.12 billion yuan, with an increase of 130.5 percent.
"Those accomplishments benefit hugely from the government's promotion of projects and effective implementation of industrial arrangement," said Liu Xingge, vice director of Harbin Development and Reform Commission.
The municipal government will mainly work on preparation and investment invitation in the winter, accelerating construction in the spring, promoting and attracting investment in the peak season and supervising the construction in the end of the year.
The government also set up a coordination system, which successfully solved some 60 issues for major provincial and municipal projects.
By the end of October, the whole city had started 1,041 industrial projects, each of which was worth more than 20 million yuan. The combined total investment was 520.5 billion yuan.
To date, the actually utilized investment into these industrial projects has reached 104.8 billion yuan, accounting for 83 percent of the annual expected investment of 126.3 billion yuan.
There are also 277 provincial and municipal major projects, with investments totaling 55.01 billion yuan, accounting for 85.3 percent of the planned amount.
212 of these provincial and municipal projects are launched in 26 industrial parks, with a total investment of 195.24 billion yuan.
"It is the first time in Harbin that the implementation of projects goes so smoothly and quickly, on such a large scale," said Liu Xingge.