Beijing set to lure more visa-free transit tourists
created: 2013-08-05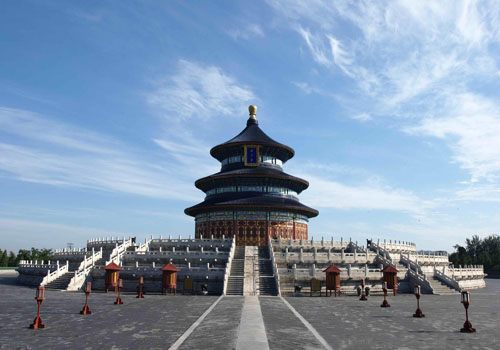 Beijing has vowed to step up promotion of its 72-hour visa-free policy, aiming to attract more foreign transit tourists following a drop in arrivals for overnight stays in the past months this year.
About 2.14 million tourists visited the capital during the first half of the year, a 14.3 percent decline compared with the same period last year, according to the Beijing statistics department.
"The city is considering further cooperation with Beijing Capital International Airport and Air China to come up with air ticket discounts, while building an alliance to attract more foreign transit tourists," Lu Yong, director of the Beijing Commission of Tourism Development, said at a conference.
Beijing introduced the 72-hour visa-free policy for tourists from 45 countries on Jan 1, but it has not had the expected effect.
The capital also saw year-on-year declines in inbound tourists in the first six months of 1989, 1998, 2003 and 2008, the commission said.
The weak global economy has deterred many potential travelers from Japan and South Korea, with tourist arrivals from these two countries falling by 54.5 percent and 22.3 percent respectively in the first six months.
In addition to a stronger RMB yuan, which increases the cost for tourists to China, frequent air pollution also contributed to the poor inbound tourism performance in the first six months, Lu said. More importantly, Beijing, together with many other Chinese cities, is not providing services that meet international standards, meaning many potential travelers stay away.
Jiang Yiyi, director of the China Tourism Academy's international tourism development institute, said cheaper air tickets are one of the main ways to attract many transit travelers.
"Many tourists prefer transit stops, either due to a cheaper air ticket or the additional value this brings. Cheaper air tickets play a key role in attracting more foreign visitors," she said.
Yang Jinsong, a professor specializing in international tourism at the academy, said Beijing should carry out a study on foreign tourists who benefit from the visa-free policy so that it can come up with tailor-made tourism products.
"Many of the tour packages no longer meet foreign tourists' demands," he said.
Further study is needed to find out whether transit visitors come to Beijing for business or pleasure, Yang added.
Takahide Tanaka, director of a medical institute who lives in Tokyo, has been a frequent business traveler to Beijing, but said it has been gradually losing its appeal, with few tour choices offered in recent years.
"Many of the tour packages in the city have remained unchanged for years," he said. "What's more, the devaluation of the yen and appreciation of the yuan have made traveling in China for Japanese people much more expensive."
The capital invested 25.08 billion yuan ($4.08 billion) in the tourism industry in the first half of the year, accounting for 8.9 percent of its fixed asset investment.
Tourism revenue in Beijing reached 175.98 billion yuan in the first six months, a 9.1 percent increase year-on-year, the commission said, with spending by tourists on meals and shopping reaching 91.73 billion yuan, a year-on-year increase of 11.9 percent.
Revenue from domestic tourism in Beijing during the first six months reached 162.07 billion yuan, a year-on-year increase of 11.7 percent.
Lu estimates that tourism revenue growth in the second half will be around 10 percent.
Recommended China Guide: