Zhanjiang seafood haven
created: 2013-04-26
China Daily, April 25, 2013

You may not find the name of the city in the latest edition of Lonely Planet China, but there is no doubt what the main attraction in Zhanjiang is - its seafood.

Fringed by the sea on three sides and with five islands just off shore, Zhanjiang has many fishing ports which supply fresh and plentiful seafood that is cheap but of high quality.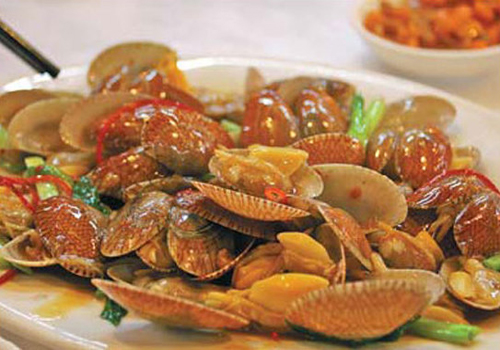 (Fresh seafood is one of the best offerings of Zhanjiang. Photos provided to China Daily)

Among the many offerings are all manner of fish, shrimps and crabs, and exotic shellfish, sandworms, seaweed, abalones and sea cucumbers.

Fortunate locals love their seafood lightly cooked, usually quickly boiled to retain all the natural sweetness.

As a famous prawn-fishing area, the annual production of prawns in Zhanjiang is about 2,000 metric tons.

Most Zhanjiang chefs dry-boil the prawns, turning them bright red while retaining their flavorful taste and texture.

Dry-boiling is simply cooking the food over medium heat without adding any water, but only condiments such as garlic.

The city's famous prawns are well-known at home and abroad and have won it a huge reputation. Some believe that out of every eight prawns eaten in the country, at least one comes from Zhanjiang.

Most seafood in the city is freshly caught and is carefully kept alive until they are set on the table and feasted upon. Much of its excellence is due to the unpolluted environment.

Zhanjiang's air quality ranks among the top five in the country.

Apart from its famous prawns, sandworm and spiral whelks are the two other famous local seafood dishes. These are often cooked in soup or porridge.

Sandworms, which look like fat earthworms, are hard to catch as they dig deep into the sand, and that makes them relatively more expensive.

They taste delicious. As you chew on the meat, the natural sweetness of the juices floods the mouth.

Other favorite food for the locals includes crabs, both the green mud crabs and the spotted sea crabs. The better quality mud crabs are also known as roe crabs, famous for its thin shell, yellow cream, delicate flesh and delectable taste.

Compared to the green mud crab, spotted sea crab is less expensive but equally good. A well-known recipe is also to dry-boil the crab, by which its flavor can be fully preserved.

Both species of crabs are a bit different from those in other places, being unique to Zhanjiang.

But, beyond all doubt, it is the oyster that Zhanjiang is most known for. In the right season, visitors will chance upon vendors selling neatly arranged rows of oysters cooking on charcoal burners in street side shanties for midnight snacks.

The secret behind the famous oysters of Zhanjiang is not in the size but more in the simple cooking method, often using nothing but a little garlic.

It is little wonder then that there is a popular saying here: "If you want to eat really fresh seafood, don't let the fish come to you, go to Zhanjiang."

Seafood sold in Guangzhou, the provincial city of Guangdong, cannot be considered fresh, in the eyes of Zhanjiang residents. To them, it must be just out of the sea.

Apart from seafood, Zhan-jiang sliced boiled chicken is so famous that the dish is simply known as "Zhanjiang Chicken". Even in the days of bird flu spreading in other places, Guangdong people say, "No problem with Zhanjiang Chicken".

There is a missing chapter on the best seafood in Lonely Planet China, and perhaps you may want to contribute after experiencing Zhanjiang's excellent harvests from the sea, particularly the oysters in summer.

Recommended China Guide: