Nanning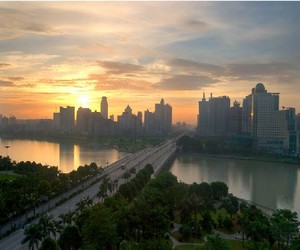 Nanning in brief
The provincial capital of Guangxi Zhuang Autonomous Region, Nanning City is known as China's Green City with lushly-growing tropical foliage and blossoms all the year around. Located in the southern part of Guangxi Zhuang Autonomous Region, Nanning is a modern city with a multicultural patchwork of 30 ethnic minorities. The Nanning International Folk Song Arts Festival is held annually in the city. And wherever you venture, the smells of hibiscus and red beans will remind you where you are. Covering an area of 2, 2112 square kilometers, Nanning is only 160 kilometers from Vietnam, served as a gateway for tourists from and to Vietnam. China-Asian Expo is held in Nanning every year in November. Also as a trading centre of Guangxi, Nanning has diversified local products, such as black glutinous rice, bamboo shoots, subtropical fruits, folk handicrafts. It is glutted with an exhaustive range of ethnic restaurants, seafood restaurants, and Cantonese restaurants. Nanning is also rich in tourism resources. The Asia's biggest binational Detian Waterfall and Halong Bay are the highlights of Nanning tours. The Ming-shi Countryside in Daxin County is just as charming as Yangshuo. Mt. Qingxiu is a 4A scenic area dotted with a pagoda, two beautiful pools and a golf course. Nine-Dragon (Jiu Long) Waterfall is the largest waterfall group in China. Despite a permanently warm, humid climate, Nanning is never drier than in June, July, and August. Winter and spring should be more reliable for a visit.
History of Nanning - A famous trade post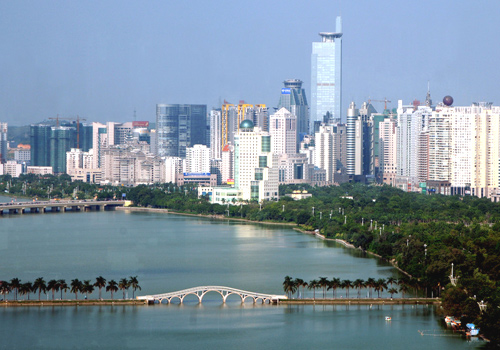 Nanning, formerly called Yong Town, has been a trading post for decades. In history, it was the gateway to southwest of China and a communications hub of Guangxi, Yunnan, Guizhou and Sichuan provinces. With a history of 1600 years, it witnessed how the communists fought against Japanese during the Anti-Japanese War (1937-1945) and found the Seventh Army and Eight Army of Red Amy. Chairman Mao, the first chairman of China once swam in Yong River in winter.
Nanning Nowadays - A green city with optimal living environment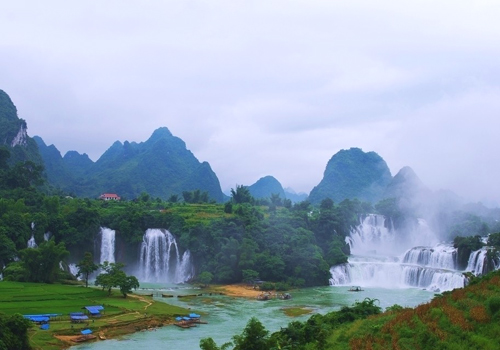 Close to the Beibu Gulf, bordering on Guangdong, Yunnan, Guizhou and Sichuan provinces, facing the Southeast Asia, Nanning remains to be the throat of southwestern region and a pivot for exporting and importing goods. With the fast-growing economy, the city speeds up to perfect infrastructure and afforest. Change is constant in this city of 6.34 million. People's Square, Nanhu Plaza, Riverside Leisure Park, People's Meeting Hall, International Convention Center offer a lot to see and do. It is a major tourist city only second to Guilin and Beihai in Guangxi Zhuang Autonomous Region. Several classical sightseeing routes have been developed to meet different needs including ethnic cultural tours, cityscape tours, and frontier tours and so forth. Apart from the highlights I mentioned above, more awaits you. Nanhu Lake Park is a great place for leisure with a beautiful lake and a few gardens. Yiling Cave provides beautifully shaped lime stones. Ancient Yangmei Town is the great place to enjoy old village atmosphere with its buildings of Ming (1368-1644) and Qing (1644-1911) dynasties. Guangxi Ethnic Relics Center presents real architectures of 11 indigenous ethnic groups while Guangxi Provincial Museum showcases 334 ancient bronze drums. If you come to Nanning, you will find a dynamic and exciting city with singing and green views.