Nanhu Lake Park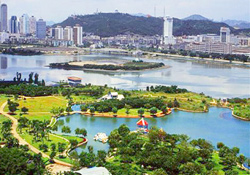 More Photos

Chinese name: 南湖公园 (Nanhu Gongyuan)
Location: in the southeast of Nanning City, Qingxiu District, Guangxi Zhuang Autonomous Region.
Ticket: free
Opening time: all day long
How to get there: take buses No.3, 8, 14, 20, 33, 65, 86 or 215, get off at Nanhu Gongyuan (南湖公园站, Nanhu Lake Park Station) or Nanhu Guangchang (南湖广场站, Nanhu Square Station)
Best time to visit: all year round
Introduction to Nanhu Lake Park
Established in 1972, Nanhu Lake Park of Nanning becomes a paradise for entertaining and relaxing of visitors of all ages. It spans an area of 1,919.2 square kilometers, comprising 1,018 square kilometers water area and 0.9012 square kilometers land area. Located in the southeast of Nanning City, Nanhu Lake Park is home to a large variety of subtropical plants including palm trees, Chinese fan palm and cajeput. Meanwhile, aquatic scenery is also a major tourist site for visitors and residents to the park. The fantastic mixture of subtropical gardening landscapes and aquatic scenery attract more than 5,000,000 visitors each year.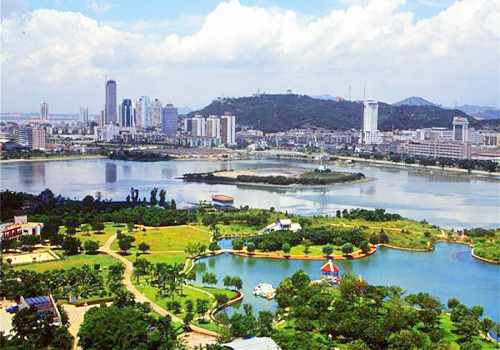 Main Attractions in the Park of Nanhu Lake
Nanhu Lake
In the ancient time, Nanhu Lake was a brook and used to be one of the sources of flood. During the Tang Dynasty, the local government dredged the waterways and got the water together, forming a lake. After making great efforts on water diversion for thousands of years, it becomes the largest inland lake in Nanning city. It runs from east to west and is divided into 3 sections. The total length for Nanhu Lake is about 7,975 meters, including 3,560 meters in the north, 330 meters in the east, 3,685 in the south and 400 in the west. Along the 7,975 meters Nanhu Lake, a seven-hole arch bridge stretches over it and 8.17 kilometers tour route encircles the lake. The wide lake offers more fun games for the aquatics activities, such as, boating in daytime and enjoying water screen movies at night.
Baise Uprising Museum

Baise Uprising Museum was established in 1984 and decorated with unique ethnical features from Zhuang minority. It is a museum dedicated to the Baise Uprising of 1929. This museum is given by the people of Guangxi to the heroic sacrifice martyrs of Baise Uprising. As two great heroic martyrs, Li Mingrui and Wei Baqun's relics and relative information are collected and exhibited in the museum in order to present a full picture of Baise Uprising. The Monument for the Li Mingrui and Wei Baqun in Baise Uprising stands on the square in front of the Museum. It is 4.5 meters high with statues of heroic martyrs. A sign on the monument, which was written by Deng Xiaoping on December 11th, 1981, reads" Heroes are never to be forgotten". Every year, people get together here to commemorate the heroic martyrs who gave their lives for liberation and freedom. The Museum was officially designated as Patriotism Education Centre in Guangxi Zhuang Autonomous Region on January, 1999.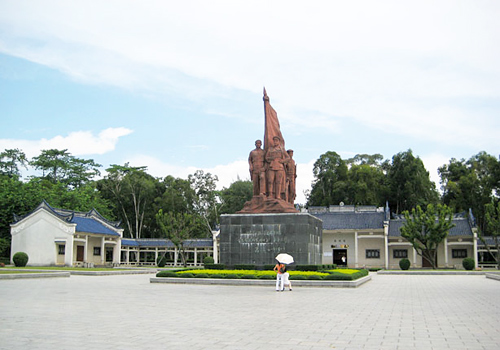 The Orchid Garden
The Orchid Garden in Nanhu Park is the first and exclusive place for exhibiting a large variety of orchids in Nanning city. Founded in 1973, it covers an area of one hectare and more than 52 species are cultivated in the garden including Cymbidium Goeringii, Cymbidium Faberi and Cymbidium Sinense. The scent of orchids and diverse orchid species bring people great enjoyment. The Orchid Garden provides a good opportunity for hundreds of thousands of local citizens and orchid lovers to appreciate the beauty of all kinds of orchids and share their experiences in the cultivation of orchids..
The Bonsai Garden
The Bonsai Garden, being built and opened in 1987, covers 1.2 hectares in the park and is a gift project for celebrating the 20th anniversary of founding of Guangxi Zhuang Autonomous Region. It is an outstanding example of classical and typical south garden. The garden is divided into three areas with three different themes. Similar to the landscapes in traditional Chinese paintings, the Bonsai Garden has ponds, bridge, rocks, pavilions, flowers and trees, It is a gorgeous landscape copy of beautiful nature. More than 350 rich diversity of exquisite potted plants including ficus microcarpa var.pusillifolia, elm treesand murraya are exhibited here. At the same time, the Bonsai Garden also provides a place for public to appreciate and participate Chinese plants arts.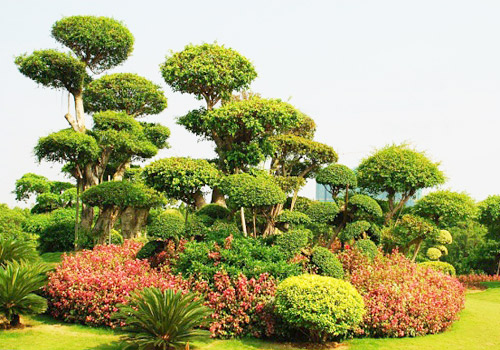 Nanhu Waterfront Footpath
The Waterfront Footpath was founded in November, 2008. The total length is 4,100 meters, consisting of 1,415 meters in the north, 360 meters in the east, 1,755 meters in the south and 270 meters in the west. Emphasized on natural beauty and sustainable development, the Waterfront Footpath combines subtropical gardening landscapes with aquatic scenery perfectly and creates an incredible waterfront green world. It separates into 4 parts: green space, leisure area, sports and culture area and fairview area. The green space is 1,495 meters long. Wooden platform, trees, bushes and stones in this area leads visitors to an enjoyable and charming trip. Leisure area is near to the Baise Rising Museum and the Nine Holes Bridge. With the length of 1,120 meters, it is well equipped and suited for all the family to occupy the days here. Sports and culture area is located in both the east and west sides of Nanhu lake with the length of 1,350 meters. Its design is characterized by Zhuang culture. The fairview area is 1,600 meters long with amazing views. Wooden trestle, natural stones, viewing platform characterize this area.
Water Screen Movie
The water project in Nanhu Park has been accomplished in 2003 by Nanning government with an investment of more than 26 million Yuan. It is about 330 meters long and regarded as the richest forms, the largest scale and top hi- tech skills water project. Ever since it was built, the Water Screen Movie has captured the attention of young and old alike. Water, laser and musical fountain provide a first-class enjoyment for visitors. Unlike normal movies, the water screen movie gives audiences a completely new and fresh feeling. It makes people's dreams come true. At night, the water screen movie is displayed in the central area of the lake. Integrating fountain, fireworks, music, thunder, lightning water mist, and laser, the movie shows a vivid 3 dimensional effect and creates a real spectacle. The installed capacity for this project is 2800KW. Meanwhile, it has 6,620 sprayers, 8381 colorful lights under the water, 6 computer remote control lights and 282km cable wires. What's more, the water screen movie can interact with audiences by showing their images, which offers audiences special experience. As an ideal way for seeing, hearing and relaxing, the water screen movie makes the nightlife in Nanhu Lake Park more colorful.
Quick Questions
Our team is waiting for your questions. Please feel free to ask us any questions you might have about our China package tours, Chinese culture, or the sites available. We will gladly help you with any special needs you might have and all questions, like our trip designing is completely free of charge.