Ming-shi Countryside

More Photos

Chinese name: 明仕田园 (Ming Shi Tian Yuan)
Location: 53 km to Daxin County, 37 km to Detian Waterfall, 210 km to Nanning City, Guangxi Zhuang Autonomous Region.
Ticket: free
Opening time: all day long
Best time for a visit: all year around


Transportation to Ming-shi Countryside:
You can choose among plane, train, or car to reach Nanning. There are shuttle buses departing from Nanning Passenger Center at Beida Road to Daxin County every 20 minutes, and express bus fair is 30 yuan. After arriving at Daxin you'll need to get another bus to take you to Ming-shi Countryside, or you can charter a minibus from Detian Waterfall to Ming-shi Countryside.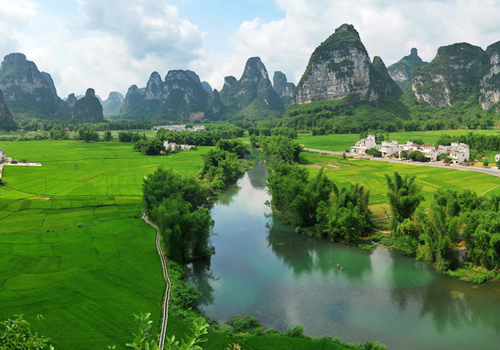 Introduction to Ming-shi Countryside
Ming-shi Countryside, a celebrated landscape gallery, is near to the Sino-Vietnam border in Kanyu Town, Daxin County, some 37 kilometers to Detian Waterfall and 210 kilometers to Nanning- the capital city of Guangxi Zhuang Autonomous Region. With typical karst features, Ming-shi Countryside is hailed as the "seclusion for anchorites" due to its peaceful scenery with green hills, clear waters and dotted cottages. A beauteous and intoxicating space isolated from the noisy world, time is suspended here that every guest can not help but slow down for fear of disturbing the tranquility of this fairyland on earth.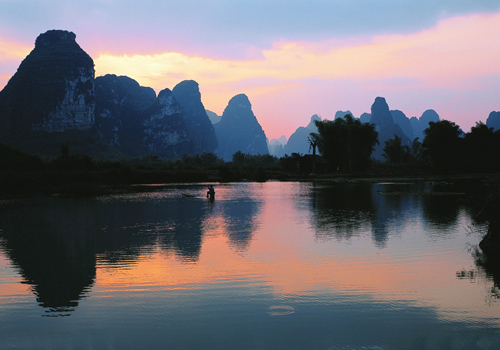 Involved in this seclusion of Ming-shi Countryside, each peak, each bridge, each farmhouse, or even a fernleaf hedge bamboo can stimulate your infinite imaginations and incessant emotions. The sinuous and limpid river, the dulcet melody from a buffalo boy's bamboo flute, a ride on a bamboo raft or a walk among paddy fields accompanied by fragrant flowers and singing birds, is none other than carefree and leisurely life of an enviable immortal.
Drift on Ming-shi River
Take a bamboo raft on the mirror-like Ming-shi River is a peerless idyllic experience to enjoy a vitality picture of cultivating peasants and playing children by the river, lingering egrets in bamboo grove and singing hill mynas along the banks. A moment like this is natural to have a cup of tea as a lighthearted hermit with cool and refreshing mountain breeze.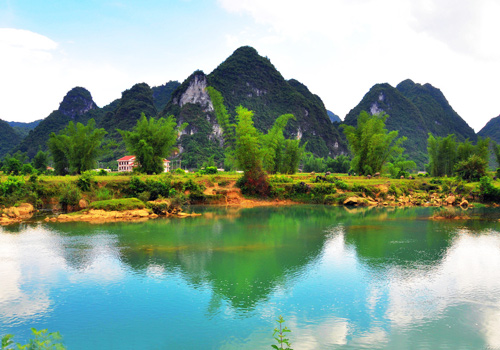 Ming-shi Mountain Villa
Designed in the style with great ethnic features of Zhuang people, the ingenious Ming-shi Villa is seated just on the river bank of the picturesque Ming-shi River.
A hotel dotted in the quiet and beautiful landscape, the Ming-shi Villa is equipped with various rooms and facilities, such as deluxe room, president suite, multifunctional meeting room, outdoor swimming pool, characteristic dinning hall, luxurious KTV boxes, superior sauna and massage services, etc. A short seclusion in the villa and experience of an idle life as an immortal is simply to watch a sunrise in the early morning, enjoy a sunset in the dusk, and admire the moon and stars at silent night.
Quick Questions
Our team is waiting for your questions. Please feel free to ask us any questions you might have about our China package tours, Chinese culture, or the sites available. We will gladly help you with any special needs you might have and all questions, like our trip designing is completely free of charge.