Guangxi Provincial Museum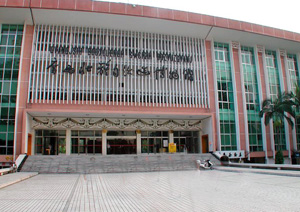 More Photos

Chinese name: 广西壮族自治区博物馆 (Guangxi Zhuangzu Zizhiqu Bowuguan)
Location: No.34 Minzu Avenue, Nanning City, Guangxi Zhuang Autonomous Region.
Opening time: 09:00-17:00 (except Mondays)
Ticket: free (only allow 3000 entries each day).
How to get there:
- take buses No.11, 23, 30, 33, 63, 205, or 211 and get off at the stop of Ethnic Relics Center (文物苑站, Wen Wu Yuan);
- take buses No.6, 34, 79 or 213 and get off at the stop of the Intersection of Minzu Road and Gucheng Road (民族古城路口, Minzu Gucheng Lukou).
Introduction to the Museum of Guangxi Zhuang Autonomous Region
The Museum of Guangxi Zhuang Autonomous Region, or Guangxi Museum for short, is a provincial museum located in the east side of Qiyi Square in Nanning City. The main building of the museum is a large cuboid construction in the column-style of Zhuang people. Covering 32757 square meters, Guangxi Museum is divided into exhibition halls in the first, second and third floors, offices in the fourth floor and a 24000-square-meter Ethnic Relics Center with great ethnic features in the back of the building.
A Brief History of Guangxi Museum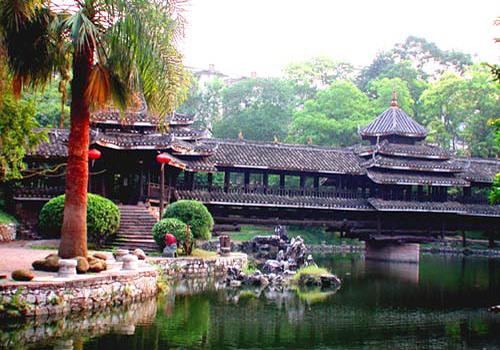 Founded in 1934 in Nanning City, the Museum of Guangxi Zhuang Autonomous Region was originally named Guangxi Provincial Museum. It begun to took shape since the completion of fixed buildings, with over 20 000 cultural objects, a good deal of stone inscriptions, rubbings, various kinds of books and reference materials; it even had launched many an exhibition. However, due to the Anti-Japanese war (1937-1945), the museum had to moved over and over again, many cultural objects were lost or damaged and the museum's name was changed for several times. It is after the founding of People's Republic of China in 1949 that the Guangxi museum revived. With sufficient preparation, the present main building of Guangxi Museum was finished in 1956 and the Guangxi Museum was officially founded in 1958 with its present name.
What to see in the Museum of Guangxi Zhuang Autonomous Region?
Basic Displays- large-scale exhibition of Guangxi bronze drums and customs of Guangxi Ethnic groups
Bronze drum is a representative of historical and cultural heritages of ancient ethnic groups in South China. Guangxi Zhuang Autonomous Region is a province famous for the drums with most types and quantities. In Guangxi Museum, it exhibits 60 bronze drums covering the ones from almost each type and era. The Guangxi nationality folkways exhibition collects featured folk custom of 11 ethnic groups live in Guangxi, the people of Zhuang, Yao, Miao, Dong, Shui, Melao, Maonan, Jing, Hui, Yilao, and Yi. The Guangxi Ethnic Relics Center, built just behind the museum building, is an extension and a dynamic exhibition in the open air of the ethnic custom, which is the beautiful scenery, dwellings of Zhuang, Yao, Miao and Dong, ethnic snacks, traditional ethnic handicrafts and folk songs and dances.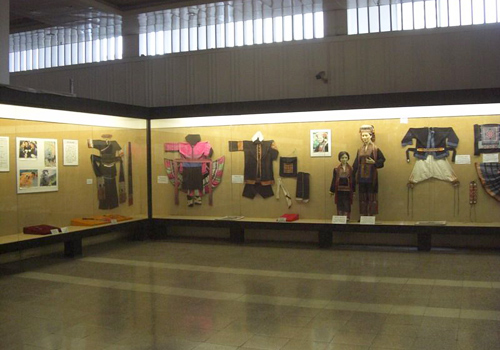 Cultural Relics
Related data show that Guangxi Museum collects more than 50 000 pieces of cultural relics, of which 152 are of first-class national cultural relics and 1791 are of secondary national relics. Guangxi is the home of bronze drum; it has rich collections of bronze drums in various types. Guangxi museum, boasts over 360 bronze drums, is the museum in the world with most bronze drums. What worth to be mentioned is "the king of bronze drum", which has a diameter of 165 centimeters and a weight of 299 kilograms. Moreover, the museum preserves the adz which was made 800 000 years ago, the mysterious stone spade of the Neolothic Age, bronze wine goblet carved with beast face of Shang Dynasty (1600-1100B.C.), inscribed wooden tablets of Han Dynasty (202B.C.-220B.C.)…and kinds of unearthed bronze articles. In the museum, the ethnic cultural relics are full of variety, revolutionary cultural relics, ancient calligraphies and paintings, abundant books and reference materials, traditional thread stitching books are all found.
Precious Collections in Guangxi Museum
- A bronze bell caved with human face and some cleat shapes- which belongs to Western Han Dynasty (206B.C.-24A.D.);
- A bronze drum carved with egret- which also belongs to Western Han Dynasty;
- A bronze lamp carved with feathers- which belongs to Western Han Dynasty, too;
- A bronze cabin in the column-style with caisson ceilings- which also made in Western Han Dynasty, measures 37.3 cm in height, 79.3cm in length and 42.7cm in width.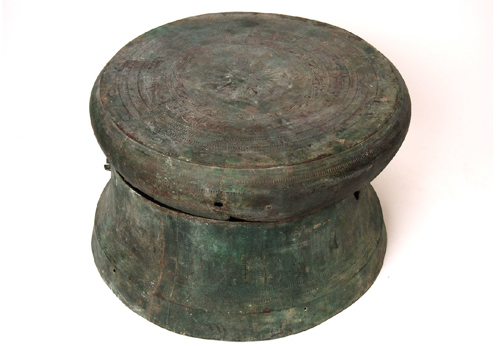 Other Academic Treatises and Featured Activities
In the scientific researches, Guangxi Museum boasts abundant accomplishments in archaeology, history, ethnology, folklore, and so on. Specifically, Guangxi Museum is the secretariat location of the Chinese ancient bronze drum seminar, which had organized many a academic conference in both South China and Southeast Asia, and made great contributions to the bronze drum researches.
Furthermore, in the Museum of Guangxi Zhuang Autonomous Region, the rich ethnic songs and dances are participatory. Tourists can join the performances, can make tofu (bean curd) and rice wine in ethnic manual workshops, savor various delicious ethnic snacks and dishes, and purchase some exquisite ethnic handiworks.
Quick Questions
Our team is waiting for your questions. Please feel free to ask us any questions you might have about our China package tours, Chinese culture, or the sites available. We will gladly help you with any special needs you might have and all questions, like our trip designing is completely free of charge.