Detian Waterfall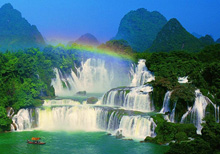 More Photos

Chinese name: 德天瀑布 (Detian Pubu)
Location: in Shuolong Town, Daxin County, 243 km to Nanning City, Guangxi Zhuang Autonomous Region.
Ticket: CNY80
Opening time: all day long
Recommended time for a visit: 3 hours
Best time for visit: April-November
Nearby attractions: Ming-shi Countryside, Tongling Grand Canyon.

Transportation to Detian Waterfall:
You can choose among plane, train, or car to reach Nanning. There are shuttle busses departing from Nanning Passenger Center at Beida Road to Daxin County every 20 minutes, and express bus fair is 30 yuan. After arriving at Daxin you'll need to get another bus to take you to Detian. The bus ride is 65 km, and it will last about an hour and cost 8 yuan per person.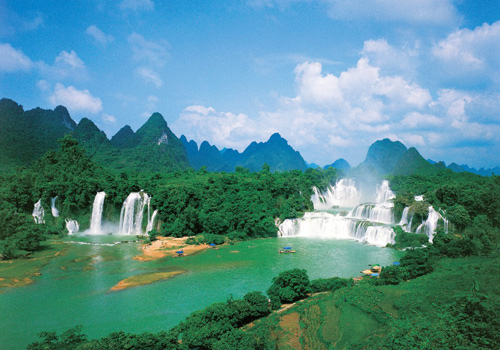 Introduction to Detian Waterfall of Nanning
Detian Waterfall is located in the Chinese nature reserve near the Sino-Vietnam border of China's Daxin County, Nanning, Guangxi Zhuang Autonomous Region, and is considered one of the country's special tourism attractions. It crosses from China to Vietnam and is Asia's largest transnational waterfall, and places second longest amongst the entire world. Detian waterfall is more than 200 meters wide, and more than 60 meters deep. No matter if you are close to the falls or far from them, these magnificent falls are sure to captivate your heart.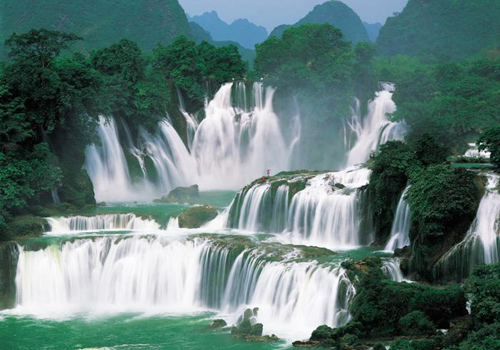 In addition to these breath-taking waterfalls, there's also an abundance of other stunning sights to be seen. Such as beautiful green treed covered peaks that over lap like crashing waves, the Leiping Stone Forest, and the Water Stone Forest. Levels of limestone caves can be found everywhere throughout the area. There's also the Qiaomiaoping Lake which is sure to mesmerize all guests with its peculiar shaped under water rocks, its glass like water, and beautiful multilevel falls. Among the area you'll find No.53 Boundary Marker, which holds a great meaning, along with many historical sights, cultural relics, and a vast array of rare animals.
Escape all the hustle and bustle of everyday life, come and embrace nature! Your heart will be rejuvenated by these quiet mountain and river landscapes.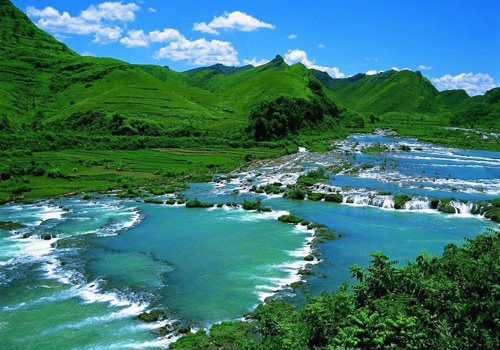 Hotels in the scenic area of Detian Waterfall
Detian Resort
Detian holiday villas are with in the waterfall area. The villas are continental styled two-tier housing designs. From the villa terraces you can enjoy the waterfalls and the not so far away exotic Vietnamese scenery.
Detian Hotel
Every room is designed, equipped, and up to international 3 star hotel standards. Every room has a solar water heater, an independent luxurious bathroom, and a satellite TV.
Shuolong Mountain Villa
The village of Shuolong sits near the Sino Vietnamese border, so exploring the surrounding sights during the day is very convenient, and at night you can go back to your villa and experience the mystery of the Sino Vietnamese night.
Quick Questions
Our team is waiting for your questions. Please feel free to ask us any questions you might have about our China package tours, Chinese culture, or the sites available. We will gladly help you with any special needs you might have and all questions, like our trip designing is completely free of charge.