Macao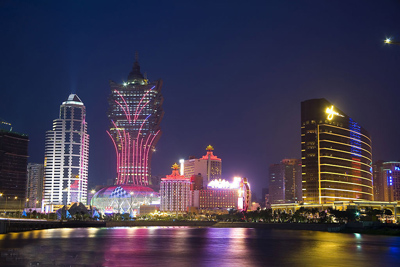 Macao in brief
Located in the western side of the Pearl River Delta bordering the Guangdong province, southern China, Macao (Macau) is along with the famous city of Hong Kong, one of the Special Administrative Region (SAR) of China. Lying around 65 kilometers' boat ride away from Hong Kong to its east and 145 kilometers away from Guangzhou, Macau is a former Portuguese colony embodying today the fusion of Mediterranean and Asian lifestyle, temperament and architecture. Comprising the Macau Peninsula in itself and the Taipa, Coloane Islands and Cotai, Macau is a small region where travelers will for sure fall in love with the unique atmosphere spreading everywhere and definitely different from mainland China. Colorful palette of pastel sand, mosaic-like cobbled streets, baroque churches and restful parks and gardens, Macau can be toured even by foot. Being a place where Cantonese and Portuguese constitute the two main official languages, English and Mandarin Chinese can be understood and seen everywhere. Since recent years, Macau is also known as the Asian Las Vegas for its many luxurious casinos where some travelers love to spend their time at night. Glittering nightlife buildings, typical Portuguese architecture, Macau will make you live another experience of China. A place where Europe and Asia meet in a harmonious way!
History of Macao – Ancient Portuguese colony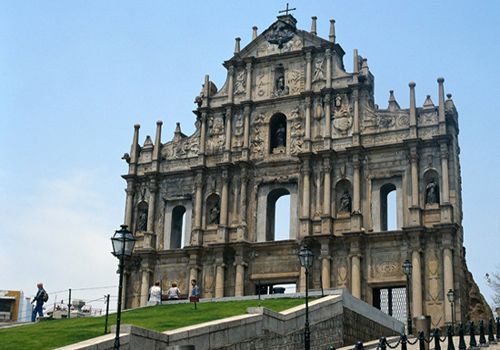 Macao has a rich history tightly intertwining with Portuguese and European influences in general. Indeed, since early 16th century the city started to be visited by some Portuguese galleons looking for some trade with Chinese people. Home to a huge amount of pirates, the island started to be cleared out from this unliked population by the Portuguese, who established their colony in this tiny enclave in 1557 themselves. As a principal meeting point between China and the West, Macau became a major trading port but the establishment of Hong Kong on the other border of the Pearl River Delta hit the city which started to decline progressively after the Opium War (1839 - 1842). The status of Macau started to be discussed as the government asked for the departure of Portuguese that finally happen until 1999. The Sino-Portuguese Pact signed on the 20th December 1999, Macau returned to China and was designated as a Special Administrative Region (SAR). Until then, the Pact ensures Macau a high degree of autonomy in all matters except defense and foreign affairs for 50 years. Chinese nationals and other foreign people need to have a visa and special permit to enter the territory, which will not change by 2049. In any ways, travelers who have the opportunity to see Macau will be charmed by all the hints of this ancient Portuguese settlement. Bursting with cultural and historical relics, Macau is a Euro-Asian jewel in Asia.
Macao nowadays – A UNESCO ranked city where China and Europe intertwine harmoniously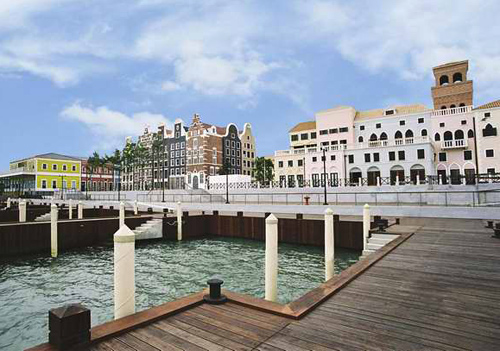 Today, Macao is a great tourist city sharing the same statu with Hong Kong, one of the best financial cities in the world. Travelers to this ancient Portugueses concession would be surprised by the cool atmosphere of the place where Cantonese, Mandarin Chinese, Portuguese, English and a bit of Spanish is speaking everywhere. Coming by air, boat or road (from the border city of Zhuhai, Mainland China), it is convenient to access Macau. Depending on nationality, the entrance to the city for foreigners is generally allowed without any visa for 30 to 90 days, but make it sure before planning it anyways. When touring the city you will need to change your currency for the official "Patacas" (MOP$), even if some Chinese RMB, Hong Kong Dollars and Euros can be accepted in several places. In Macau, the must-see scenic spot is definitely the Historic Centre of Macau which collets more than 400 years of history and was ranked since 2005 as a UNESCO World Heritage Site together with 8 squares and 22 historic buildings. The urban and pedestrian area extends through long alleyways where everything can be done by foot. Compared to the tumultuous city center of cities like Shanghai or Hong Kong, Macau seems to be a relaxing cosmopolitan place where life spends smoothly. Travelers who look for a complete overview of this China-Portuguese concession will need from 2 to 3 days to visit it completely together with the islands of Taipa and Coloane connected to the peninsula by 3 huge bridges. Currently registered as the oldest and most preserved array of European architecture on the Chinese territory, Macau is a must-go place when traveling in southern China. Experiencing Portuguese and Chinese culture in the same place is an exquisite moment that will not have the chance to be seen anywhere else.