St. Lawrence's Church

More Photos

Chinese name: 聖老楞佐教堂 (風順堂)
Location: Fung Shun Tang Street, in the southwest of Macau Peninsula, Macao, China.
Opening time: 10:00-16:00 (from Monday to Friday); 10:00-13:00 (on Saturdays); closed on Sundays and other public holidays.
Ticket: free
How to get the St. Lawrence Church: Take bus No. 9, 16, 18, or 28B and get off at Fung Shun Tang Station.

Brief introduction to St. Lawrence's Church


The St. Lawrence's Church, also known as Feng Shun Tang (Church of Smooth-sailing Wind), is one of three oldest churches in Macau. It was first built approximately during 1558 and 1560 in memory of St. Lawrence, who is regarded by Portuguese as a patron saint in navigation. St. Lawrence's Church has been renovated for several times. The present church looks much the same as it was renovated in 1618.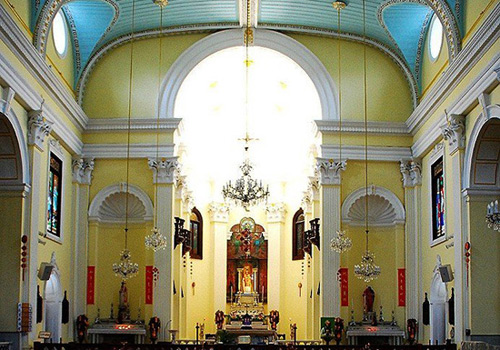 Surrounded by a garden filled with tall palms, St. Lawrence's Church shows a Baroque architectural style on the base of European classical architecture. This Christian church looks imposing and solemn with yellow walls and symmetric bell towers on two sides, respectively housing a clock for telling the time and a bronze bell for rocking and announcing the Mass. An old stone-carved cross is erected on the tiled roof. The interior is even more imposing and charming with huge columns and delicate droplights. The statue of St. Lawrence stands in the altar with a bible in right hand and a staff in his left hand. In the eyes of Portuguese, St. Laurence is a sea god who protects people and tells them wind direction. To this extend, St. Laurence is similar to Goddess Matsu who is worshiped by people in China's coastal areas.

Quick Questions
Our team is waiting for your questions. Please feel free to ask us any questions you might have about our China package tours, Chinese culture, or the sites available. We will gladly help you with any special needs you might have and all questions, like our trip designing is completely free of charge.