St. Dominic's Church

Chinese name: 聖多明我教堂 (玫瑰聖母堂)
Location: In the middle of Senado Square (Largo do Senado), in the center of Macau, China.
Ticket: free
Opening time: 10:00-18:00
How to get there: Take bus No.3, 3, 3A, 4, 5, 7, 8A, 10, 10A, 11, 18, 19, 21A, 26A, or 33.
Nearby attractions: Museum of Macau, Ruins of Saint Paul's Cathedral, Senado Square, Leal Senado, and Cathedral.

St. Dominic's Church, arguably the most beautiful church of Macau
St. Dominic's Church near Leal Senado was first built in 1587 by Spanish Dominican priests and the next year was taken over by Portugal disciples. The construction of the church aimed to enshrine Our Lady of the Rosary. St. Dominic's Church was originally built in camphorwood and finally rebuilt in stone in 17th century. The annual parade of transferring Blessed Virgine Mary to Penha Hill starts from St. Dominic Church on May, 13. St. Dominic's Church entered the lists of World Heritage Site in 2005 as it forms part of Historic Center of Macau. It is now the main venue for yearly Macau International Music Festival. It is the church that has seen the most concerts in Macau.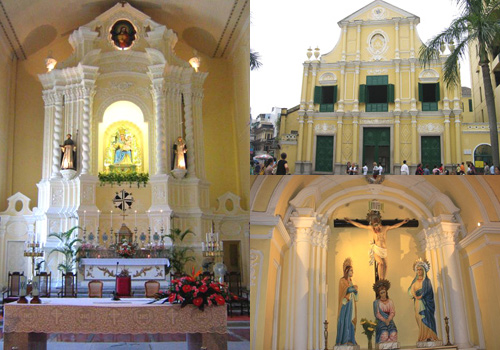 The beautiful Portuguese colonial Catholic church has three halls. A few arched brick gates separate the nave with side halls and the main altar. The ceiling is carved with Spanish crowns. The main hall is resplendent with colored glasses. The statue of ''The Virgin and Child'' is placed on the altar and two statues of Christ nearby. Besides, a multitude of intriguing oil paintings and statues can be found in the church, including the outstanding statue of Jesus Christ. In 1991, the Macau government set out a maintenance project on the church. And the bell tower on the third floor was transformed into a museum called Treasury of Sacred Arts, housing various catholic Mass utensils and wood carving pieces.