Sir Robert Ho Tung Library

More Photos

Chinese name: 何東圖書館
Location: No.3 St. Augustine's Square in the Historic Centre of Macau, in southern Macau Peninsula. 
Opening time:
-10:00-19:00 (Monday-Saturday)
-11:00-19:00 (Sunday)
Ticket: free
How to get there: by bus No. 18.
Nearby attractions: Dom Pedro V theatre, St. Augustine's Church, St. Joseph Seminary (Seminario De S. Jose), St. Lawrence's Church (Fung Shun Tang).

Sir Robert Ho Tung Library, the only garden library in Macau


Standing amid a quiet and beautiful garden with European-style architectures, Sir Robert Ho Tung Library is a great place for both reading and leisure. As a part of Macau Central Library, Sir Robert Ho Tung Library was initially a mansion built in 1894 and later purchased by Sir Robert Ho Tung, who was a rich Hong Kong businessman and philanthropist. After his death in 1955, the mansion was presented to Macau Government and transformed into a public library according to Sir Robert's will. Three years later, the library was opened to the public and became a unique garden-style library. Meanwhile, elegant, tranquil, artistic, Sir Robert Ho Tung Library is the biggest library.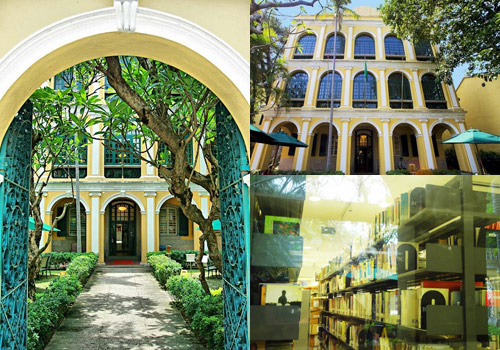 The libary is a three-storey building with arched doors and windows. The walls are painted in yellow and partially ivory, looking harmonious with green trees and bright sunshine. The old building is now a library of ancient books and an exhibition site. Many valuable ancient books, religious books, Chinese-English dictionaries, Chinese-Portuguese dictionaries and some other books are housed in the Ho Tung Library. In front of the old building is an open courtyard with fountains and rockeries. And at the back of it is a charming garden now serving as open reading area. A four-storey modern building was newly built in 2005 next to the back garden, making Sir Robert Ho Tung Library the largest library in Macau. The brand-new building employs glass wall and provides a panoramic view of the beautiful garden. In addition, the library has dinning halls, chatting area and even audiovisual studios for the convenience of readers.
Quick Questions
Our team is waiting for you questions. Please feel free to ask us any questions you might have about our China package tours, Chinese culture, or the sites available. We will gladly help you with any special needs you might have and all questions, like our trip designing is completely free of charge.