Senado Square - The "Maritime" Squares of Macau

More Photos

Chinese name: 議事亭前地
Location: in central Macau Peninsular, Macau, China.
Opening time: all day long.
Ticket: free
How to get there: take bus No. 2, 5, 7, 8, 9, 9A, 12, 16, 22, or 25 and get off at Senado Square Station.

Gleaming Senado Square, the most famous "Maritime Square" of Macau
Located in central Macau Peninsular, Senado Square (in Portuguese: Largo do Senado) is commonly known as Fountain. Covering an area of 3,700 square meters, it is a main city square of Macau. It was inscribed on the UNESCO's World Heritage List as part of Historic Centre of Macau in 2005. Walking along the Largo do S?o Domingos to the Avenida de Almeida Ribeiro, visitors find one of the most well-known and prosperous business and cultural center of Macau, namely the Senado Square. Located just opposite to the Government House (Leal Senado), the Senado Square is wave-like tiled with small black and white stones, reflecting Portuguese's "maritime complex". The tiled road extends to St. Dominic's Church and Ruins of St. Paul's. The whole square is in a shape of funnel, getting narrower as you go further.


Senado Square is marked by a fountain that has a celestial globe once used by pioneering Portuguese seamen in the middle. Surrounded by various shops, the time-honored square has long been the centre of Macau with snack bars and shops. Visitors can also find a large array of souvenir shops. The square is surrounded by a group of colorful buildings painted in white, yellow, pink, green, or brown. Most of them are three-storey buildings with arched windows, doors and corridors. Here the cultural exchange of China and the West is revealed fully by a mixture of Chinese and western architectures including the St. Dominic's Church, Leal Senado, Holy House of Mercy, Temple of Guan Yu (Sam Kai Vui Kun Temple), etc. During festivals the square will be delicately decorated and a hot spot for holding activities.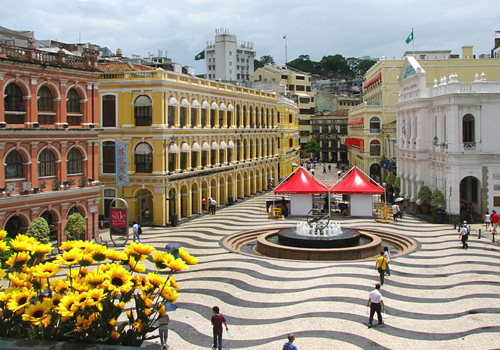 History of Senado Square


Senado Square got its name because of its location close to the Leal Senado. Located in central Macau, it has long been the place of inauguration ceremony of each governor of Macau. A bronze statue of a Portugal officer who attacked the Monte Fortress and killed an officer of Qing Dynasty (1644-1912) was erected in 1940 and pushed over by citizens during the Cultural Revolution (1966-1976). The site is now taken up by a fountain. The Senado Square is surrounded by a group of European-style architectures, many of which have been rated as memorial buildings of great architectural and artistic value. In 1990s, the Government of Macau Portuguese spent a large sum of money paving the square and streets into a wavy patterns with black and white stones. Though most of squares in Macau are paved in such a pattern that looks like marine creatures, the Senado Square is the most famous one.
Quick Questions
Our team is waiting for your questions. Please feel free to ask us any questions you might have about our China package tours, Chinese culture, or the sites available. We will gladly help you with any special needs you might have and all questions, like our trip designing is completely free of charge.