Section of the Old City Walls

More Photos

Chinese name: 舊城牆
Location: on the left side of Ruins of St. Paul's Church, in central Macau Peninsular, Macau, China.
Opening time: all day long
Ticket: free
How to get there:
-Take bus No.10, 10A, 11, 21A, 2, 3, 3A, 4, 5, 6, 7, 8A, 26A or 33 and debus at Avenida de Almeida Ribeiro and then walk down the Senado Square.
-Take bus No. 17, 18, 8A, or 26 and debus at Camoes Square Station and walk along the tiled road for a few minutes.

Brief introduction to the Section of Old City Walls
The Section of Old City Walls refers to the ruins of old city wall of Macau in between Ruins of St. Paul's and Na Tcha Temple. In the past, old city walls are a part of military defensive network of Macau. In 2005, the existing Section of Old City Walls was inscribed into World Heritage List as it forms part of Historic Centre of Macau. The city walls measures 18.5 meters long, 5.6 meters tall in a width of 1.08 meters. The old city walls are built in a rammed earth structure and made up of sediments, finger stones, straws, and oyster shell powders. An arched door can be found in the Section of the Old City Walls. Dwelling houses can be found at the back of the walls.


History of Section of Old City Walls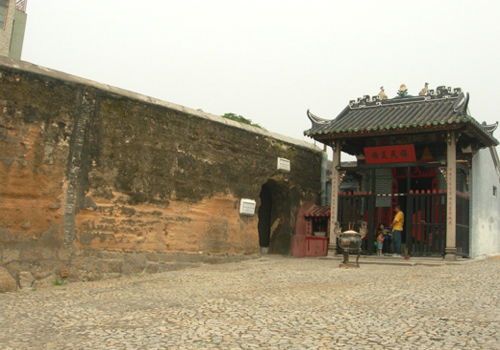 The history of Macau's old city walls can be traced back to the year of 1569 when Macau was occupied by Portugal. Because the construction of city walls was forbidden by the Ming (1368-1644) government, the city wall has experienced destruction for several times. Though, because of the invasion of Dutch into China, the Government of Portuguese Macau found an excuse to construct the north section of city wall and batteries regardless of the opposition from Ming government. Portuguese built city walls in the north, east and south of Macau Peninsular and forts in some strategic place, making Macau a tightly guarded place. The remaining section of old city walls was built after 1632.
Quick Questions
Our team is waiting for your questions. Please feel free to ask us any questions you might have about our China package tours, Chinese culture, or the sites available. We will gladly help you with any special needs you might have and all questions, like our trip designing is completely free of charge.