Seac Pai Van Park

Chinese name: 石排灣郊野公園
Location: Estrada de Seac Pai Van, in the west of Coloane Island, Macau.
Opening time: 08:00-18:00
Entrance fee: free
How to get there: Take Bus No.15, 21A, 21, 25, 26, or 26A.

Brief introduction to Seac Pai Van Park, a place to see pandas and more


Governed by Civil and Municipal Affairs Bureau of Macau, the Seac Pai Van Park (in Portuguese: Parque de Seac Pai Van) is the largest natural green belt of Macau. It was initially a farm and later converted into a multifunctional country park. Covering an area of 20 hectares (approximately 40 acres), Seac Pai Van Park is the first country park of Macau. It is also the location of Macau Museum of Pandas. It has been listed as a protection zone since 1981 because of its beautiful sceneries and both educational and scientific value. Seac Pai Van Park boasts plentiful wild flora and fauna. It is well appointed with a Museum of Nature & Agriculture, a children's zoo, an aviary, a botanical garden and many more. Therefore, it is a great place for family outing and biology teaching.
The Museum of Nature & Agriculture is just the representative of Macau's agriculture, nature and geography, recording the rural life and natural environment of Macau by samples, scripts, objects and models. Two pandas donated by Chinese Government in the museum is the most attractive part of Seac Pai Van Park. The botanical garden boasts various kinds of trees, medical plants, rare plants, fragrant flowers and introduced plants. The zoo showcases many rural live stock, docile animals and wild animals such as ostrich and tarsier monkey. In addition, a BBQ area, a picnic area, a children's playground, and several walkways can be found in the Seac Pai Van Park.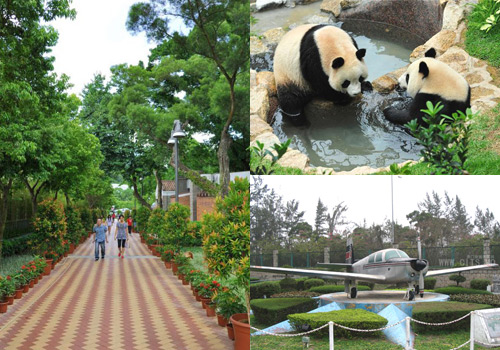 Apart from the above mentioned points of interest, Seac Pai Van Park houses some historical relics, including a small airplane of Portugal, an old railway engine, skeleton specimens of a Bryde's whale and a Chinese white dolphin.