Sam Kai Vui Kun (Kuan Tai Temple)

More Photos

Chinese name: 三街會館 (關帝廟)
Location: Rua Sui do Mercado de Sao Domingos, in central Macau Peninsula, Macau, China.
Entrance fee: free
Opening time: 08:00-18:00.
How to get there: Take Bus No.2, 5, 7, 8, 9, 9A, 12, 16, 22, or 25.

Brief introduction to Sam Kai Vui Kun


Sam Kai Vui Kun was built in 1750 initially as the meeting place of Chinese tradesmen. It was not until the advent of Chinese Chamber of Commerce of Macau in 1912 that the Sam Kai Vui Kun's function as a meeting place was weakened. Because it has been dedicated to Guan Yu (Kuan Tai) - the God of Martial Arts and God of Wealth since its foundation, it was gradually converted into a temple. In 2005, it was inscribed into the UNESCO's World Heritage List as it forms part of Historic Centre of Macau. Sai Kai Vui Kun literally means ''a community hall for three streets''. Located in the junction of three oldest streets of Macau (Rua dos Mercadores, Rua dos Ervanários and Rua das Estalagens), it was at one time the location of the most flourishing commercial center of Macau.

Located near the St. Dominic's Church and Leal Senado, the Kuan Tai Temple is dedicated to the god of Kuan Tai, a famous general of Three Kingdoms Period (220-265) who was extraordinary brave and therefore deified as God of Martial Arts and Fortune. The temple is a modest structure with a gray brick facade. The complex is small, hides itself among towering buildings and witnesses people's life changes. It was constructed with a Xieshanding-style roof (Nine-Ridge Roof) covered by glazed tiles. The arrangement of halls is akin to that found in Jin Dynasty (265-420) with a mountain gate, three halls on a north-south axis, and side halls on either side. The main hall is incense-shrouded throughout the year with massive incense coils hanging overhead. It stands 10 meters high with the main ridge decorated with the sculptural ornaments depicting ''two dragons playing with a pearl'', and the gable wall with exquisite stone sculptures.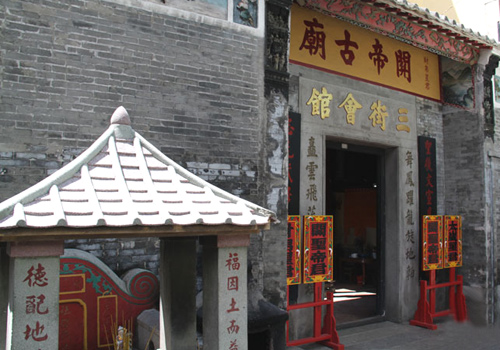 Activities of Kuai Tai Temple

Sai Kun Vui Kun gets particularly bustling when local people celebrate such festivals as the Feast of Drunken Dragon and Feast of Guan Yu. On the eighth day of April in Chinese lunar calendar (often in mid May in western calendar), a large crowd of people are attracted to Sai Kun Vui Kun to enjoy the dance of ''drunken dragons'' and snap a shot. The Feast of Drunk Dragon Festival is a traditional folk activity celebrated by fishermen, who hold wooden dragons that have only head and tail. The dragon dance looks interesting because the dancers drink wine as they wave the ''dragon''. In addition, Feast of Kuan Tai is held every year on the 13th day of May in Chinese lunar calendar (often in late June in western calendar) when Chinese Village Operas will be on stage outside the Sai Kun Vui Kun to celebrate the birthday of Guan Yu.
Quick Questions
Our team is waiting for your questions. Please feel free to ask us any questions you might have about our China package tours, Chinese culture, or the sites available. We will gladly help you with any special needs you might have and all questions, like our trip designing is completely free of charge.