Ruins of St. Paul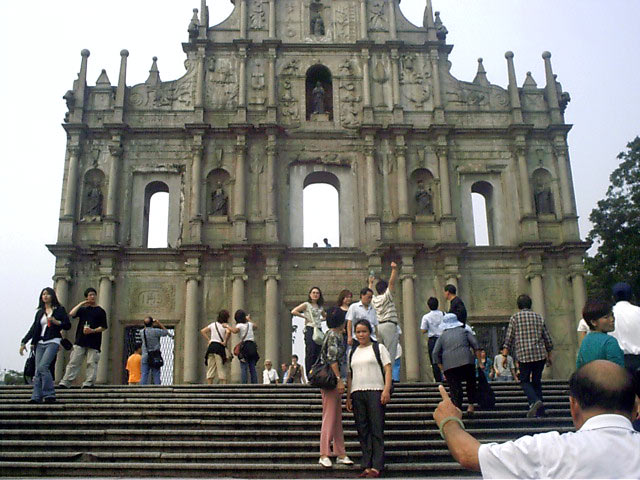 More Photos

Chinese name: 大三巴牌坊
Location: In the St. Paul's Road (Rua de Sao Paulo, Macau, China), Macau, China.
Admission fee: free.
Opening time: all day long. The Museum of Sacred Art (天主教藝術博物館與墓室, Museu de Arte Sacra) opens from 09:00 to 18:00.
How to get there:
- By bus No. 10,10A, 11, 21A, 2, 3, 3A, 4, 5, 6, 7, 8A ,26A, 33 and get off at Avenida de Almeida Riberio (新馬路, San Man Lo), then walk along the Senado Square;
- By bus No. 17, 18, 8A, 26 and get off at Jardim Camoes/ Terminal (白鴿巢總站, Camoes Garden Bus Terminal), then walk along the Cobbled Street (石仔路).
Best time to visit: All year round.
Recommended time for a visit: one hour.
Introduction to Ruins of St. Paul
Ruins of St. Paul, the most representative scenic spots of Macau, refers to the front of St. Paul Cathedral completed in the year of 1580. No travelers will leave Macau without paying a visit to this attraction. Mixing the style of renaissance and that of oriental architectures, the exquisite and magnificent cathedral used to be the largest Catholic Church, known as Oriental Vatican, affiliated to St. Paul College. As the first western university in Far East, this college enrolled quite a few foreign missionaries studying Chinese since its opening in 1594, thus becoming an important base for missionary work and promoting the exchange between China and Europe in terms of religion and culture.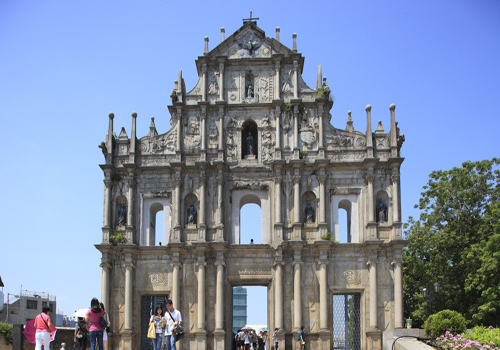 Because of the fire in 1853, the cathedral became what it looks like now. As one of the eighth famous attractions of Macau, Ruins of St. Paul is a baroque architecture. And its oriental carvings are seen plainly, such as Chinese and Japanese peonies and chrysanthemums, which make it outstanding and unique among all catholic churches around the world. Although the cathedral is out of practical use any longer, Ruins of St. Paul go hand in hand with the citizens living in Macau. Some activities take place periodically here, while staircases in front are seats accordingly.
Walking from the iron stairs behind the ruin can lead you to the second tier. Standing there and looking afar, you will feel as if you were overlooking the city in the cathedral.
Features of Ruins of St. Paul
Made of granites, the Ruins of St. Paul is 23 metres wide, 25.5 metres tall and divided into five tiers. The third tier and the above compose a triangle with the base being 8.5 metres. The architecture as a whole is baroque, but there is also a touch of Orient, like some traditional patterns of chrysanthemums in China or Japan, thus becoming a unique catholic church around the world.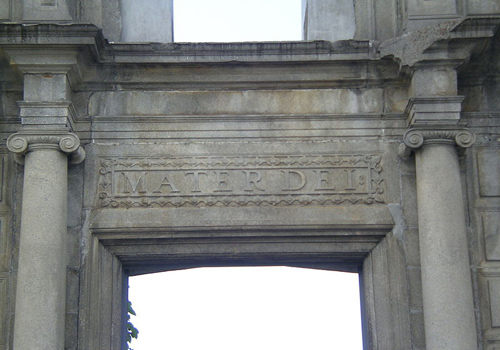 The first tier is three entrances with ten Ionic orders. And the lintels of the small entrances are engraved with relief of IHS, while MATER DEI is in sight on the main entrance, which tells the Virgin Mary used to be enshrined here. The second tire comprises three windows and ten Corinthian orders, each lintel carved with seven roses. Between the two pillars beside the middle window on both sides are Palmolive trees patterns, while four catholic saints are enshrined in niches of the side windows. The third tier is best embellished, made up of six hybrid pilasters. In the middle exists a niche, where the Virgin Mary is in sight, with three reliefs of angels on both sides. The left is tree of wisdom and a pterosaur on which is the Virgin Mary. The right is spring of spirit and a western sailing boat on which is Our Lady, Star of the Sea. outside the pillars are buttresses, on which some Chinese can be read – "念死者无为罪", "鬼是诱人为恶". The forth tier, composed of four hybrid pilasters, is enshrined with Jesus, on whose sides are reliefs of instruments of torture. Between pillars are reliefs of angels. The fifth tier is a triangle-shaped pediment, in the middle of which is a bronze pigeon with a cross atop.
History of Ruins of St. Paul
In a great degree, Ruins of St. Paul is the witness of Chinese history blending western civilization. Four hundred plus years ago, as Portuguese invaded Macau, they introduced Catholicism, too. Built in the year of 1562, the gothic cathedral was completed years later, and was named St. Paul. Unfortunately, the church had been destroyed by fire twice. In 1602, it was under reconstruction for 35 years; in 1835, the church was burnt to the appearance we see today. Moreover, the Ruins of St. Paul had documented Chinese nation suffering humiliation in the modern history. Opium was first exported to China from Portugal, and it was still legal for opium-taking until 1946. After the Opium War, Portuguese occupied and colonized Macau, making this city a base for the Britain aggression against China. Not far from the Ruins of St. Paul was the notorious "pig street", along which Chinese laborers were sold in more than three hundred places. The then Macau had seen many victims of human trafficking by millions of foreigners.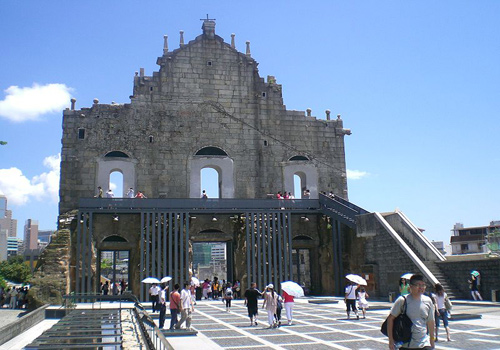 Travel tips:
After visiting the Ruins of St. Paul, you can go the Museum of Sacred Art to have a look nearby. It is worth seeing, in that it has a collection of representative paintings and statues of Macau churches and monasteries. Of them, a batch of oil paintings themed religion is the oldest in the Far East. In addition, remains of martyrs of Japan and Vietnam can also be seen.
Quick Questions
Our team is waiting for your questions. Please feel free to ask us any questions you might have about our China package tours, Chinese culture, or the sites available. We will gladly help you with any special needs you might have and all questions, like our trip designing is completely free of charge.