Na Tcha Temple

More Photos

Chinese name: 大三巴哪吒廟
Location: In the St. Paul's Road (Rua de Sao Paulo), central Macau Peninsular, Macau, China.
Opening time: 08:00-17:00
Entrance fee: free
How to get the Na Tcha Temple:
-Take bus No. 10, 10A, 11, 21A, 2, 3, 3A, 4, 5, 6, 7, 8A , 26A, 33 and get off at Avenida de Almeida Riberio (新馬路, San Man Lo), then walk along the Senado Square.
-Take bus No. 17, 18, 8A, 26 and get off at Jardim Camoes/ Terminal (白鴿巢總站, Camoes Garden Bus Terminal), and then walk along the Cobbled Street (石仔路).

Brief introduction to Na Tcha Temple


Located behind the Ruins of St. Paul, the Na Tcha Temple was built in 1888 and reconstructed in 1902. It is dedicated to the deity Na Tcha, a legendary figure of China who looks like a kid yet with magic power. In Chinese Buddhist books, Na Tcha is hailed as a protector of Dharma and has been worshipped in folk since the late 17th century. Legend has it that the construction of Na Tcha Temple aimed to dispel a plague. The existence of Na Tcha Temple near the Ruins of St. Paul's Church is regarded as the symbol of harmonious fusion of Chinese civilization and western culture. In 2005, it was incorporated into Historic Center of Macau. Close to it is the Section of Old City Walls.


Structure of Na Tcha Temple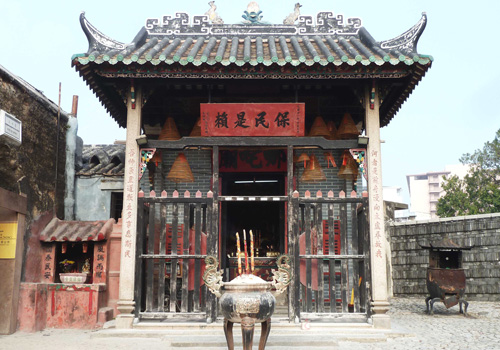 Located on a hillside near to Ruins of St. Paul and linked with Section of Old Walls, the Na Tcha Temple is measures 8.4 meters in length and 4.51 meters in width with an entrance porch joint with the main hall. Na Tcha Temple has a single chamber and no courtyard, being a rare example among traditional Chinese temples. The porch has only one wall and on three sides enclosed by black-colored wooden barriers. Its Xieshanding-style roof is propped up by two stone pillars and a beam inverted into the gable of main hall. The roof is the kind of traditional flush gable roof with upturned eaves. The gable wall is quite simple with little ornaments. The main ridge is dressed with sculptures turtle and pearls. The Na Tcha Temple is a modest and unique structure with gray brick walls simple ornaments, forming a contrast with neighboring architectures.


Activities of Na Tcha Temple
The Procession of Na Tcha's Image is a tradition held annually on the 18th day of the fifth month in Chinese lunar calendar, on the birthday of Na Tcha. On that day, the statue of Na Tcha in the temple will be transferred – in Chinese "invited"- into a golden sedan which will be carried along the main streets of Macau.
Quick Questions
Our team is waiting for your questions. Please feel free to ask us any questions you might have about our China package tours, Chinese culture, or the sites available. We will gladly help you with any special needs you might have and all questions, like our trip designing is completely free of charge.