Maritime Museum

More Photos

Chinese name: 海事博物館
Location: No.1 Largo do Pagode da Barra (the Square of the Barra Pagoda), in southern Macau Peninsular, Macau, China.
Opening time: 10:00-17:30 (closed on Tuesdays)
Ticket:
There are two ways for you to buy a ticket. One is buy a joint ticket for the following six museums of Macau, including Maritime Museum, Grand Prix Museum, Wine Museum, Museum Lin Zexu, Macao Museum of Art, and Macau Museum. The price is MOP25 for adults and MOP12 for children between 18 and 60 years old. The joint ticket is valid within 5 days and can be purchased at any of the above museum. Another way is buy a single ticket for Maritime Museum. The price for Maritime Museum is as following:
-Between 10 and 18 years old: MOP5 (Monday-Saturday); MOP3 (Sunday).
-Between 18 and 65 years old: MOP10 (Monday-Saturday); MOP5 (Sunday)
-People aged over 65 or under 18 are free.
-"Ocean Odyssey" simulator: MOP15 for two; "Sea Cruising": MOP10 for two.
How to get there: By bus No.1, 1A, 2, 5, 6, 7, 9, 10, 10A, 11, 18, 21, 21A, 28B, 34.

Brief introduction to Maritime Museum


According to Macau Daily, the Maritime Museum near the A-Ma Temple draws 100,000 visitors a year, among which 30,000 are local teachers and students who take the Maritime Museum as ''the second classroom'' to learn Macau's history and culture. As the oldestmuseumofMacau established in 1987,MaritimeMuseumfocuses on fishing instruments, traditional sailboats, navigation instruments and other technologies and vehicles related to the sea and the maritime history ofMacau,ChinaandPortugal. Maritime Museum is composed of an exhibition building, a library and an open teahouse. Covering an area of 800 square meters, the exhibition building is in the shape of a sailing ship anchoring in front of A-Ma Temple. The location of the museum is precisely where the Portuguese landed on Macau for the first time. At the Maritime Museum, visitors can look at the flowing river and the incense-shrouded A-Ma Temple which is dedicated to Matsu, the sea goddess of fishermen.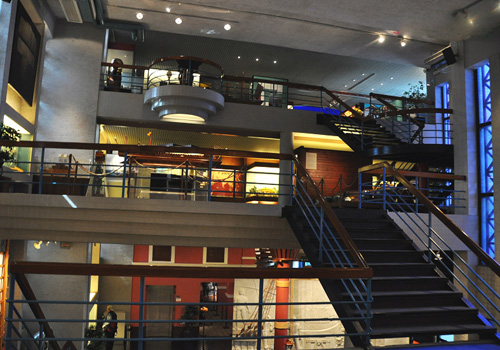 Detailed information about the Maritime Museum


Maritime Museum is filled with the air of the sea, embodied in the wall carved with marks of compass bearing, a relief sculpture of the arrival of Portuguese seafarers, a number of oil paintings finished by celebrated artists, model ships, and a miniature shop selling maps, navigation gears, T-shirts, and other interesting souvenirs. Some exhibition halls even have audio and visual installments. The "little A-Ma Theater" presents the story of Mazu protecting fishermen Mazu in Portuguese, Cantonese, Mandarin and English to meet diffrent needs. Outside the Maritime Museum are a square and the No.1 Pier where people can play with model ships with remote controls, sit into a simulator submersible, or embark on a real boat to enjoy a harbor cruise. There are four exhibition pavilions in the Maritime Museum.
---Exhibition pavilion of maritime folklores

This area displays models of Portuguese traditional sailboats, a model of dragon boat made of whale's bones, and exhibits related to traditions, costumes, trading goods, boats of fishermen in Macau and South China.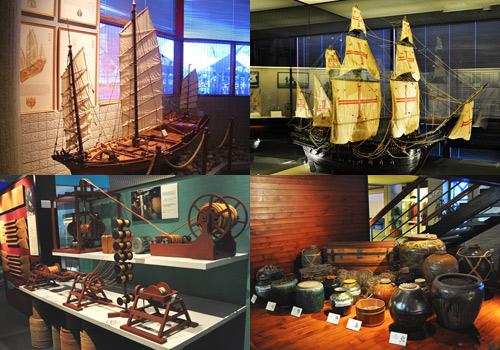 ---Exhibition pavilion of maritime history


This pavilion displays the maritime history of China and Portugal in between 15th and 17th century. Exhibits involve model of "Caravelle" ship used by Portuguese seafarers, models of merchant ships, subsidiary utensils of navigation, cubic model of Macau's topography in the 17th century, and so forth. The most eye-catching exhibits show the spectacular scene of "Zheng He's Expedition to western seas".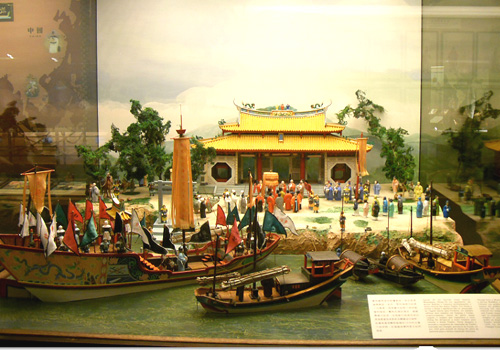 ---Exhibition pavilion of aquariums


There are totally four aquariums representing different underwater worlds and respectively showing a riverbed, harbor waters, a coral reef and a sunken ship in deep sea.


---Exhibition pavilion of maritime technologies


Exhibits related to navigation technologies such as model of Guia Lighthouse, quadrants, telescope, compass are on display.


The Library


The library in Maritime Museum stores 2,500 books related to maritime technologies, folklores, history of Macau and so on. In addition, there is a photos' archive storing pictures of Macau in modern times.


The Open teahouse


Situated to the north of Maritime Museum, the open teahouse is a great place for relaxing. It is approximately the same size of a basketball court. It faces the Wan Chai in Zhuhai City across the sea.
Quick Questions
Our team is waiting for your questions. Please feel free to ask us any questions you might have about our China package tours, Chinese culture, or the sites available. We will gladly help you with any special needs you might have and all questions, like our trip designing is completely free of charge.