Lou Kau Mansion

More Photos

Chinese name: 盧家大屋
Location: No 7 Travessa da Sé, Macau.
Opening time: 09:00-19:00 (Saturday-Sunday, public holidays); when there is folk arts activities it will be opened from Tuesday to Sunday.
Ticket: free
How to get there: Bus routes to Lou Kau Mansion include 2, 3A, 4, 7, 8A, 10, 10A, 11, 18, 19, 21A, 26A, 33.

Brief introduction to Lou Kau Mansion


The Lou Kau Mansion (Casa de Lou Kau) located on the Travessa da Sé is the residence of Lou Kau (1848-1907), a famous Macau merchant in early 20th century. Lou Kau Mansion has been listed as a part of Historic Center of Macau. Governed by Macau Bureau of Culture, it is opened to the public partially. The Cantonese-style mansion was built in 1885. It is two-storey tall with gray brick walls, being a rare extant traditional mansion in Macau. The layout imitates Xiguan Dawu (most of them are residences of merchants and officials built in late Qing Dynasty) in Liwan District of Guangzhou City. The hallway, tea room and the main hall are separated by screens. Several patios are arranged to collect light. The interior decorations bring in both Chinese and western elements. Brick carvings, plaster moldings, hanging fascia are akin to those found in central Guangdong Province. While false ceilings, iron railings, and Portuguese-style blind windows with stained glasses add to the western elements of the complex. In 1992, Lou Kau Mansion became a protected architecture as the Macau government appraising it "with great architectural artistic value".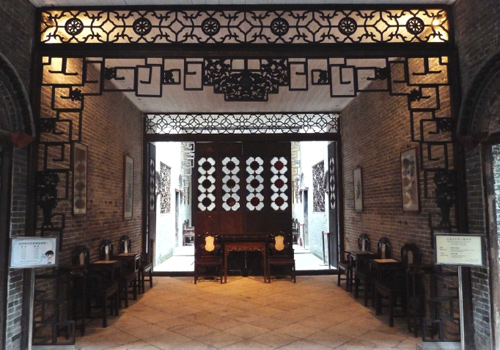 Lou Kau was born in a poor family and moved to Macau in 1857. Ten years later, he made fortune through opium trade and gambling. However, with the prohibition of gambling since 1904, the Lu family went into bankrupt. The mansion fell into hands of others and filled with renters and at one time accommodated some 20 households. And because of long-time disrepair, most of the mansion was taken down. It was not until 2002 that Macau Bureau of Culture started maintenance of the mansion. In 2005, Lou Kau Mansion was opened to the public partially. Macau's Chinese Orchestra once held several small-scale concerts in this mansion to promote Chinese traditional folk music.

Quick Questions
Our team is waiting for your questions. Please feel free to ask us any questions you might have about our China package tours, Chinese culture, or the sites available. We will gladly help you with any special needs you might have and all questions, like our trip designing is completely free of charge.