Leal Senado Building

More Photos

Chinese name: 民政總署大樓
Location: 163 Avenida de Almeida Ribeiro, in central Macau Peninsular, Macau.
Opening time: 07:00-19:00.
Ticket: free
How to get there: Take the No. 3, 3A, 4, 8A,10, 10A, 11, 18, 19, 21A, 26A, 33 buses to the Av. De Almeida Ribeiro (San Ma Lo).
Tips: Leal Senado offers two 45 minutes' guide service of introducing its architecture and history from 15:00 to 16:35 on Saturdays and Sundays.

Brief introduction to Leal Snado Building


Located in the heart of Macau, Leal Senadooverlooks the Senado Square and is home to Macau's Municipal Council. It is now a part of Historic Center of Macau, inscribed onto UNESCO's World Cultural Heritage Lists. Leal Senado now houses a gallery holding regular exhibitions on the ground floor, a public library storing old foreign books between 17th century and mid-20th century, and an auditorium with a chapel. Out the back of Leal Senado is relatively quiet Portuguese-style courtyard with a flower nursery in a shape of celestial globe and a bust of the Portuguese poet Camoes. Every year when Christmas is approaching, Leal Senado will be decorated with beautiful lighting, so will the Senado Square.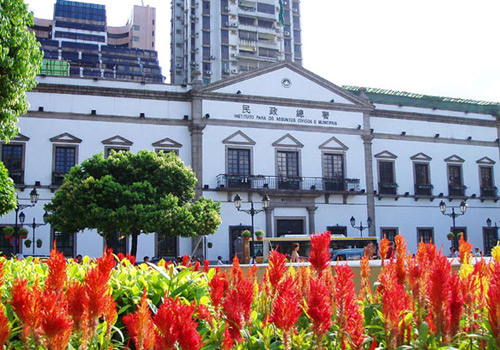 History of Leal Senado


Originally a traditional Chinese-style pavilion structure for discussing official affairs, it was declared as the meeting place of China and Portugal's officials by the Ming Government. And in 1784, the 49th year of Emperor Qianlong's Reign (1735-1795), the property was purchased by Portuguese. A Portuguese-style building was established and became the regional political heart of Portuguese in Macau. Since then, all the civil affairs and even assemblies and ceremonies of them were held in Leal Senado. Leal Senado have experienced several restorations. The present one keeps much the same look as it was renovated in 1874, with distinctive southern European style. Leal Senado once accommodated the Museum of Camoes, a post office, a court and a jail, all of which have been moved out. On January 1, 2002, the municipal administrative body was substituted by the general administrative body. The building was officially named Leal Senado.
Quick Questions
Our team is waiting for your questions. Please feel free to ask us any questions you might have about our China package tours, Chinese culture, or the sites available. We will gladly help you with any special needs you might have and all questions, like our trip designing is completely free of charge.