Dr. Sun Yat Sen Municipal Park

Chinese name: 紀念孫中山市政公園
Location: On the Avenida do Comendador Ho Yin, Macau, China
Admission fee: free
Opening time: 06:00-23:00; the library in it opens from 08:00 to 20:00 except Monday
How to get there:
- By bus No. 10, 10A, 12, 17,
- By Transmac bus No. 5, 6, 8A, 9, 9A, 28B, 28C.
Best time to visit: All year round.
Introduction to Dr. Sun Yat-sen Municipal Park
Dr. Sun Yat-sen Municipal Park, originally known as Canal dos Patos Park, covering an area of 570,000 square metres, is a multi-functional park next to Portas does Cerco, as well as the largest park in Macau. The park was set up and was named after Sun Yat-sen, the remarkable revolutionary forerunner of China, and at the entrance of the park, his bronze statue are in sight, too. Landscapes of the park are characteristics of the west and the east, for instance, in the northeast, there are artificial lake, zigzag bridge, pavilion and other Chinese-style architecture, while in the southwest, sports facilities and greenhouse are designed in western style. Originally, it was a landfill before 1983, and was transformed into the park in the year of 1987. In 1990, the bronze statue was erected. And six years later, a large-scale statue made of steel was added to the park, called Forever Handshake in honour of the friendship between China and Portugal.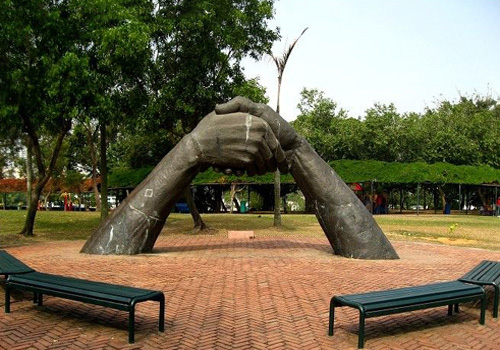 Facilities in the Dr. Sun Yat-sen Municipal Park
There is a library inside the park, called Dr. Sun Yat-sen Municipal Park Huang Yingjun Library, which is named after the contributor and overseas Chinese in Peru Huang Yingjun. Opened up on 26th April, 1996, the library has a collection of 5,000 books, and is divided into two parts, the upper floor for adult reading, and the lower floor for children reading. Other facilities include barbeque area, fitness trail, swimming pool, birdcage, restaurants, greenhouse and so forth.