Dom Pedro V Theatre

More Photos

Chinese name: 伯多祿五世劇院
Location: On the Largo de Santo Agostinho, Macau, China
Admission fee: free.
Opening time: 10:00-23:00
How to get there:
- By bus No. 18.
Best time to visit: All year round.
Introduction to Dom Pedro V Theatre
As an ancient theatre on the Largo de Santo Agostinho, Dom Pedro V Theatre is deemed as the first western theatre in China. It was built, in the year of 1860 by Portuguese in Macau, in honour of theatre was Portuguese king Pedro V. Originally, only the main part was constructed, and it was in 1873 that colonnades, arcades and the triangle lintel were added. In effect, the architecture contains not only a theatre, but also a ballroom, billiard parlor, reading room and the like. It used to be the auditorium and gathering venue of Portuguese living in Macau, but due to the destruction from termites, Dom Pedro V Theatre had not been open to the public until the year of 1993. After renovation in 1993 and 2001, the main body remains intact. In 2005, it was listed as a part of Historic Centre of Macau into the World Cultural Heritage by UNESCO.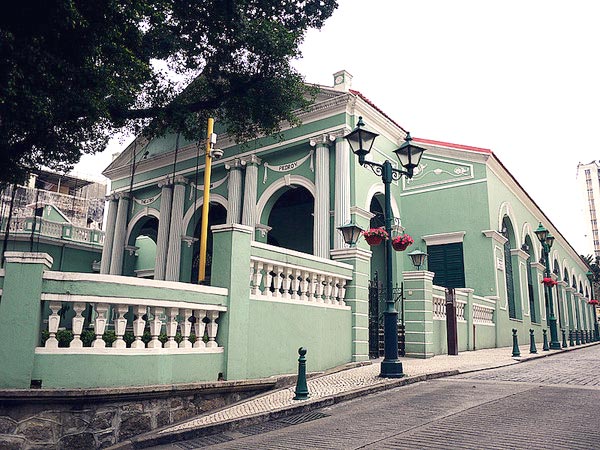 Constructions of Dom Pedro V Theatre
Dom Pedro V Theatre is 41.5 metres tall, 22 metres wide, while its ridge of Chinese-style pitched roof is 12 metres tall, eaves 7.5 metres tall. The architecture as a whole presents a design of neo-classism Greek revival. The front and back of the auditorium are the antechamber and stage, with long corridors stretching on the both sides for rest. And stairs of the corridors can lead to the crescent-shaped auditorium on the second floor, which is supported by ten pillars of the first floor. As to the fa?ade of the architecture, it is a 15.7-metre-wide porch, with a pediment on the top. Beneath are four pairs of ionic orders decorated simply, leaving the architecture more imposing and towering. Different from the fa?ade, the sides have nine consecutive French windows of 2.45 metres width. Immersed in the surroundings of most yellow architecture, Dom Pedro V Theatre seen green as a whole catches your eyes, together with its atrovirens windows and door, as well as ruddy roof.
Events in relation to Dom Pedro V Theatre
The debut of Madama Butterfly in Asia was put on stage in Dom Pedro V Theatre, making it praised far and wide. During the World War II, it acted as the sanctuary for refugees.
Quick Questions
Our team is waiting for your questions. Please feel free to ask us any questions you might have about our China package tours, Chinese culture, or the sites available. We will gladly help you with any special needs you might have and all questions, like our trip designing is completely free of charge.