Cathedral

More Photos

Chinese name: 主教座堂
Location: on the No.1 Largo de Se, Macau, China
Admission fee: free.
Opening time: 7:30-18:30
How to get there:
- By bus No. 3, 3A, 4, 8A, 10, 10A, 11, 18, 19, 21A, 26A, 33
Best time to visit: All year round.
Introduction to Cathedral
Cathedral, or Catedral Igreja da Sé, built before the year of 1567, is a part of Historic Center of Macau, as well as the hub of Catholicism in Macau. Every year, the grandest midnight Mass, Jesus icon parade and other big events are held here. As a matter of fact, the Cathedral, literally meaning big church, gets its name not due to its large scale but its majesty. As early as 1575, catholic bishopric was set up in Macau, which made the city the center for Catholics to preach a sermon in the Far East. The next year, the Cathedral was founded and some remains of the bishops of the 1500s and 1600s were buried beneath the altar, like D. Belchior Carniero Leitao, SJ. Now, the Cathedral, after several times renovation, has its square paved with Portuguese-style cobbles, decorated with a lovely fountain, thus becoming a quiet and elegant attraction in Macau. Starting from here, you can reach within two minutes the St. Dominic's Church, or Avenida de Almeida Riberio, where a striking difference between bustle and tranquility can be experienced.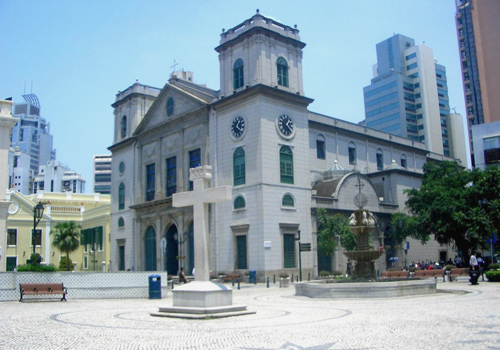 Constructions of the Cathedral
The Cathedral is divided into two parts. The first part is the main body, while the second part refers to the bell tower beside. The main body is in rectangular shape, with a transept and a prayer room on both sides. In the transept is enshrined with Virgin Mary. The main altar is designed so simple that it is only set off by stained glass windows, because under which are buried remains of bishops and devotees of the 1500s to 1600s, which glorifies the cathedral intensely. The interior decoration, mainly of green colour, represents neo-classicism, either in terms of architectural details or architrave. The second part, as abovementioned, referring to the bell tower by the main body, serves as a reminder. For instance, if a wedding, Mass or solemn ceremonies occurs, the bell will ring.
Quick Questions
Our team is waiting for your questions. Please feel free to ask us any questions you might have about our China package tours, Chinese culture, or the sites available. We will gladly help you with any special needs you might have and all questions, like our trip designing is completely free of charge.