Camoes Garden

Chinese name: 白鴿巢公園
Location: on the Camoes Square, Macau, China
Admission fee: free.
Opening time: 06:00-22:00.
How to get there:
- By bus No. 17, 18, 8A, 26 and get off at Jardim Camoes/ Terminal (白鴿巢總站, Camoes Garden Bus Terminal).
Best time to visit: All year round.
Introduction to Camoes Garden
Camoes Garden, is the largest garden in Macau, and one of the oldest gardens in Macau. The previous Camoes museum and garden used to be imperial palaces of Portugal for short stays away from the capital, covering an area of 19,000 square metres. In the 1800s, Marques, a rich man in Portugal, once built a luxurious villa here and raised pigeons around. Sometimes, as many as hundreds of white pigeons would hover above, thus becoming a magnificent scene in Macau. Therefore, the locals also called the place "the nest of white pigeons". When Marques passed away, the villa was donated to the Macau authority in honour of Camoes. In 1960s to 1980s, it was transformed into a museum, then the present garden.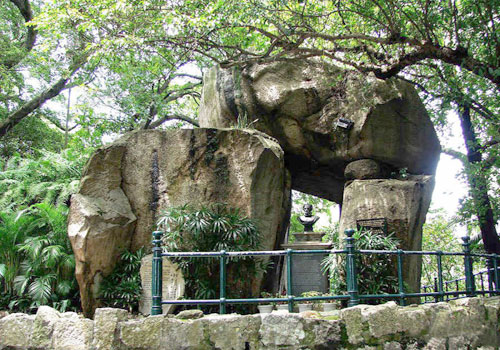 In the garden, small hills, towering trees, fragrant flowers, chirping birds are all available. Even in the sweltering summer, you can find it a cool and refreshing world. If you come here at dawn or at dusk, you can always find quite a few dwellers doing exercises or having a rest.
Camoes Grotto
What is the most famous attraction in the garden is Camoes grotto. Camoes, a remarkable poet a household name in Portugal, was exiled to Macau because he gave offence to the court and officials, and lived in the grotto in seclusion since then. It was in this grotto that made up of three huge stones that he created the epic Os Lusíadas. He is so influential that his memorial day – 10th June is the national day of Portugal. In the year of 1849, Marques had bronze statue of Camoes customized in Paris and placed it in the grotto. In addition, the grotto was converted into Portuguese-style gate arch.
In the garden, you can find another statue, named Embrace, which is in honour of the friendship between China and Portugal. Moreover, whenever you are in the garden, you can find yourself surrounded by royal Poinciana.