A-Ma Cultural Village

More Photos

Chinese name: 媽祖文化村
Location: on the Dieshi Mountain, Coloane Macau, China
Admission fee: free.
Opening time: all day long. Tianhou Palace opens to the public from 08:30 to 18:00.
How to get there:
- Shuttles of Goddess A-Ma Foundation of Macau run between stone memorial archway parking lot in coloane and Tianhou Palace parking lot, are available every thirty minutes. The shuttle bus of stone memorial archway parking lot starts from 08:00 to 18:30, while that of Tianhou Palace parking lot starts from 09:00 to 19:00.
- By bus No. 15, 21A, 25, 26, 26A.
Best time to visit: All year round.
Brief introduction to A-Ma Cultural Village
A-Ma Cultural Village was funded by Goddess A-Ma Foundation of Macau. Completed in the year of 2003, A-Ma Cultural Village is covering an area of 6,200 square metres. Its main architectures are statue of Goddess A-Ma, and Tianhou Palace.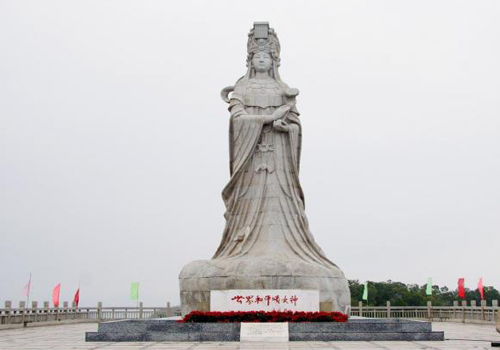 Statue of Goddess A-Ma
October 28th, 1998 witnessed the completion of the world's tallest stature of Goddess A-Ma on the top of Dieshi Mountain, the peak of Macau. The 19.99-metre-tall statue is symbolic of Macau's return to motherland on December 20th, 1999. Weighing more than 500 tons, it is made up of 120 pieces of white marbles, and her face is carved on one piece of a whole white marble. Seen afar, she is crystal-clear and possesses a mild and benevolent countenance, looking afar the sea, as if she is deeply concerned about Macau all the time. Since it is sited on the top of Macau, you can have a look at it distinctly, whether from the sea or the land. And the untraversed street Coloane see streams of people come to visit it all the year round.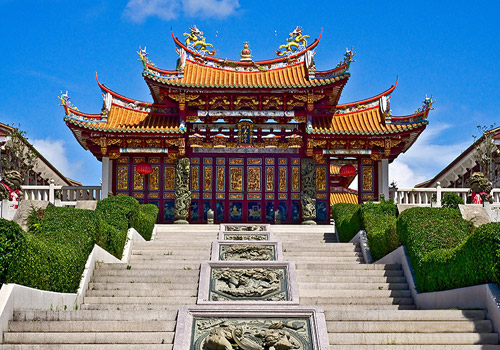 Tianhou Palace
Covering an area of 7,000 square metres, the palace is composed of paved paths, gate, altar, hall and Shuzhuang building. The paved paths comprising six staircases, embedded bluestone auspicious reliefs in the middle stretches to the gate.
The gate is a pavilion-shaped memorial archway made of wood and stone, big mighty stone lions sitting on both sides. You can not only discover the golden coloured glazed tiles, but also exquisite decorations on the beams.
The hall is also made of wood and stone, with golden coloured glazed tiles. Facing it, you can find six bluestone reliefs. And the porch in the front of the hall, where red doors and window carved with auspicious patterns are in sight, makes the hall even grander. In the hall is a 3.8-metre-tall, 2.1-metre-wide statue of Goddess A-Ma.
With respect to Shuzhuang building, it was the dwelling of A-Ma, simultaneously, an important part of architectural complex of Tianhou Palace. Following the Fujian style, it is a two-storey imitation of ancient building made mainly of wood and stone. Covering an area of over 300 square metres, the building has the statue of Avalokitesvara enshrined on the second floor.
Quick Questions
Our team is waiting for your questions. Please feel free to ask us any questions you might have about our China package tours, Chinese culture, or the sites available. We will gladly help you with any special needs you might have and all questions, like our trip designing is completely free of charge.