Yellow River Xiaolangdi Scenic Area

More Photos

Name in Chinese: 黄河小浪底风景区 (Huang He Xiao Lang Di Feng Jing Qu)
Location: in Mengjin County, 30 km south to Jiyuan City, 40 km North to Zhengzhou City, Henan Province.
Opening time: 07:30-18:30
Entrance fee: CNY40 (CNY50 for round-trip cable car)
How to get there:
- Depart from Luoyang: take shuttle busses at Luoyang Bus Station, and it will take about 45 min to get there;
- Depart from Jiyuan: take shuttle busses at Hongyun Building (鸿运楼), which can be reached by buses No.1, 3, 4, 5, 6, 8, 9, 10, 11, 12, 18, 22, 25, 26, 28 29 or 52. It will take about 30 min to get to Yellow River Xiaolangdi.
A brief introduction to Yellow River
Huang He or the Yellow River, as most people know it, is the second longest river in China, and the 6th on earth. It has been mentioned all throughout China's history in books, poetry, and songs. In ancient times, it was a source of transport for travelers and goods. For everyone who gets the chance to ride on its waters, you become part of its history, you become part of it. The river crosses many of China's provinces, 7 to be exact: Qinghai, Gansu, Ningxia, Inner Mongolia, Sha'an xi, Shanxi, Henan, Shandong; it also passes many cities, such as Lanzhou, Yinchuan, Wuhai, Baotou, Luoyang, Zhengzhou, Kaifeng, and Jinan.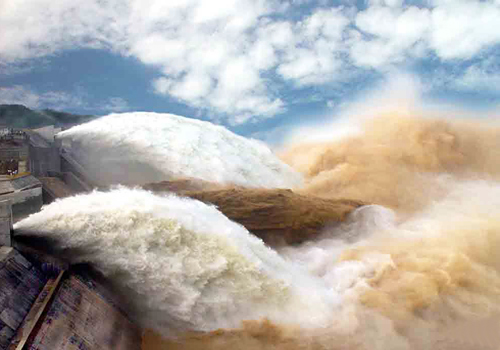 The Yellow River is yellow in color due to amount of silt in its waters. The yellow river was the cradle of ancient Chinese civilizations, however due to its river bed rising over the last years, it has become the sorrow of China due to increased flooding, sometimes well over the height of it's surrounding fields.
Before the Yellow River was seen as a life source for civilizations, the cradle of Chinese civilization, today it not only produces water for many people and crops, but also provides a mass amount of energy for China, by providing hydroelectric energy. The Yellow River along its banks and in it has 14 hydroelectric power stations: Sanmenxia Dam, Sanshenggong hydroelectric power station, Qingtong Gorge hydroelectric power station, Liujiaxia Dam, Yanguoxia Dam, Tianqiao hydroelectric power station, Bapanxia Dam, Longyangxia Dam, Da Gorge hydroelectric power station, Li Gorge Hydroelectric power station, Wanjiazhai Dam, Xiaolangdi Dam, and Laxiwa Dam.
About Yellow River Xiaolangdi Scenic Area-picturesque Thousand Islands in North China
Located in the last gorge of middle reaches of Yellow River and covers a total area of 1,262 square km, the Yellow River Xiaolangdi Scenic Area is divided into four sections, Xiaolangdi Dam, Jinzi Hill, Bali Gorge and Sanmenxia Dam. Xiaolangdi Dam-centered, the scenic area features superb sceneries of gorges, rivers, surrounding peaks and profound Yellow River culture.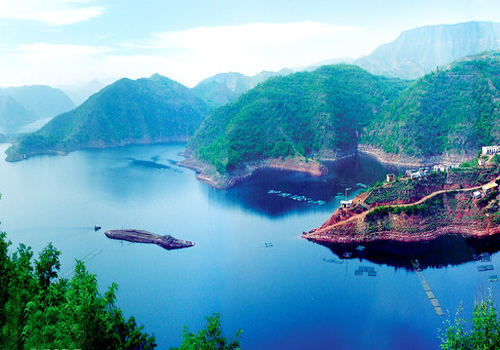 The 1667-meter-long Xiaolangdi Dam, the highlight of the whole scenic area, is a monumental work in controlling Yellow River in Chinese history and also a challenging masterwork of hydraulic engineering. It was built with multi functions of flood protection, ice prevention, electricity generating and desilting. Numerous verdant peaks around are delicate and pretty with places of historic figures and cultural heritage. In addition, the three gorges of Yellow River, Hutong Gorge, Longfeng Gorge and Gushan Gorge pass through the river, are like winding dragons, and snakes cutting through the land, the water the life of the dragons. They stand like giants along the river, truly magnificent in size and beauty.
Quick Questions
Our team is waiting for your questions. Please feel free to ask us any questions you might have about our China package tours, Chinese culture, or the sites available. We will gladly help you with any special needs you might have and all questions, like our trip designing is completely free of charge.