The Longmen Grottoes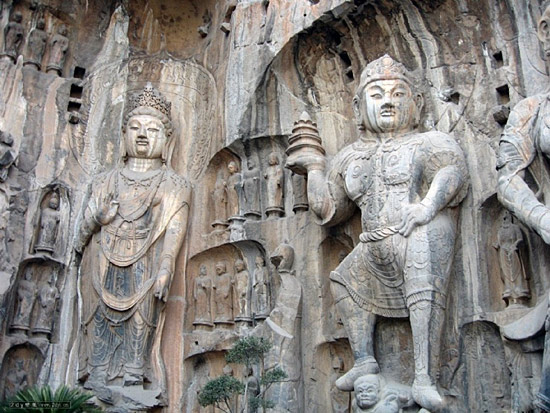 More Photos

Chinese name: 龙门石窟 (Longmen Shiku).
Location: 12 km south of Luoyang City, Henan Province.
Ticket: CNY120 (including entrance fees to Longmen Grottoes, Bai Garden (Bai Juyi's tomb), Xiangshan Temple).
Opening time:
- Spring to Autumn: 07:00-18:30;
- Winter: 07:30-17:30;
(Travelers can have a night visit to Longmen from 18:30 to 22:00 between April and October 10. Sale of tickets stops at 21:00.)
Best time for visit: autumn.
How to get there: It takes about 40 minutes from the railway station to Longmen by bus No.81. The cost by taxi is about CNY35.
Travel tip: The Luoyang Peony Festival is held from April to early May every year, which is a good time for those interested in both Longmen Grottoes and peony to visit Luoyang.
Introduction to Longmen Grottoes
Situated on the banks of Yi River in the southern suburb of Luoyang City, Longmen Grottoes is commonly listed among the Four Great Grottoes of China together with Mogao Grottoes in Dunhuang, Yungang Grottoes in Dunhuang and Mount Maiji Grottoes in Tianshui.
The creating of Longmen Grottoes started from around year 493 when Emperor Xiaowendi of Northern Wei Dynasty (368-534) moved the capital from Pingcheng (known as Datong today) to Luoyang. Hailed as the No.1 among the most famous eight landscapes in ancient Luoyang, Longmen Mountain was recognized as an advantageous place in Chinese Fengshui, which made it the site for the grottoes. After a long intermittent project lasting over 400 years after Northern Wei, a spectacular grotto stretching for one kilometer from south to north emerged on the cliffs of the mountains by Yi River.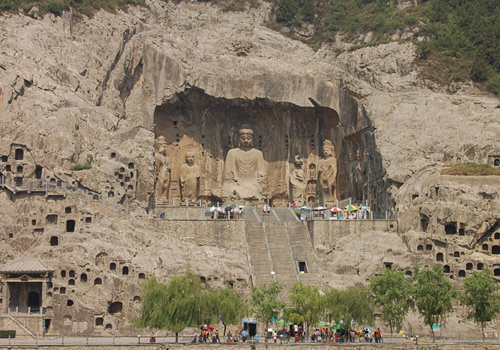 Among all the caves in Longmen Grottoes, that completed by Northern Wei Dynasty and Tang Dynasty account for the majority, reaching up to 30% and 60% respectively. Impacted by aethestic standards of the times, two dynasties show widely different styles in carving statues of Buddhas. The ones of Northern Wei look vivacious, comely, tender and slim, while the Tang's are much plumper.
In addition, Longmen Grottoes is also a treasure house of Chinese calligraphy. Not only do the inscriptions found in the grottoes record why the statues of Buddhas were carved but also they are essential Chinese calligraphy themselves. Nowadays, Chinese characters in Wei-style are still widely used in slogans and decoration.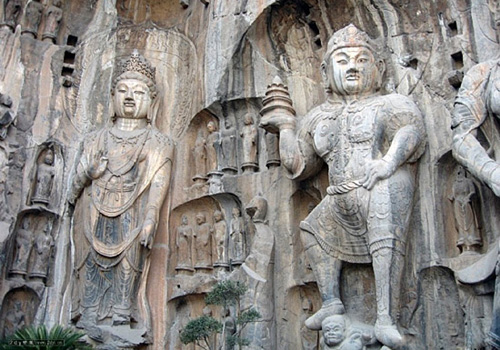 Being the artistic expression of Buddhism culture, Longmen Grottoes also keep a good deal of materials about politics, economy, culture, religion, arts, architecture, calligraphy, music, medicine, costume, etc. Hence, it is also hailed as a large-scale comprehensive museum of ancient Chinese history.
Up to this day, there are still over 2000 cave shrines, over 2860 pieces of inscriptions, over 70 Buddhist pagodas and more than 100,000 statues of Buddhas (with the height ranging from 17.14 meters to 2 centimeters) existing there. These relics make Longmen Grottoes the top one among all famous ancient grottoes of China in quantity. On November 30 of 2000, Longmen Grottoes was added to the World Cultural Heritage list by the UNESCO.
Quick Questions
Our team is waiting for your questions. Please feel free to ask us any questions you might have about our China package tours, Chinese culture, or the sites available. We will gladly help you with any special needs you might have and all questions, like our trip designing is completely free of charge.