Luoyang Old Town District

More Photos

Chinese name: 洛阳老城区 (Luoyang Laocheng Qu)
Location: northeast of Luoyang City, in Henan Province of central China.
Opening time: Lijing Gate: 07:00-19:00
Ticket: CNY 30 for Lijing Gate; tickets for National Peony Park, China's National Flower Park and International Peony Garden are changeable in different time.
How to get there:
-Take the bus No.41 to Lijing Gate at the square in front of Luoyang Railway Station.
-Take the bus No.101, 9, 8, 41, 48, 53, 65 to Lijing Gate at the downtown of Luoyang.
-Take the bus No.51 at the square in front of Luoyang Railway Station to the National Peony Park.
-Take the bus No.83 at the square in front of Luoyang Railway Station to the International Peony Garden.
Travelling tips:
1. Flowering season of peonies in Luoyang is between April and May.
2. The Peony culture festival is usually held every year between April 1 and May 10.

Brief introduction to Luoyang Old Town District

Luoyang Old Town District is located in the northeast of Luoyang, in Henan Province. It sits against Mengshan Mountain and faces Longmen Grotto (Dragon Gate Grotto) with Luo River running through. It has a history of 3050 year since Duke of Zhou built a city here called "Luo Yi''. Covering an area of 56.7 square kilometers, it administrates one township and seven sub-districts. Being the capital of many empires, Luoyang Laocheng District had been the political, economic and cultural center in history. It carries profound Heluo Culture (culture along Yellow River and Luo River) and breeds oriental civilization. It is the home to Cailun, the inventor of papermaking. Famous poets such as Li Bai, Du Pu and Bai Juyi wrote many poems about Luoyang. Ruins and remains are scattered here and there, including Lijing Gate of Sui Dynasty (581-618), Temple of the Duke of Zhou built in Sui Dynasty, Wenfeng Pagoda of Song Dynasty (960-1279), Fuwen Temple of Yuan Dynasty (1271-1368), Hall of Glory (Mingtang) built in Tang Dynasty (618-907), Drum Tower of Ming (1368-1644) and Qing (1644-1911) dynasties, ancient streets and dwelling houses. Luoyang Old Town District has brought its profound culture into full play to develop tourism. Cluster of ancient buildings stand solid here, reflecting the flourish of Luoyang in the past.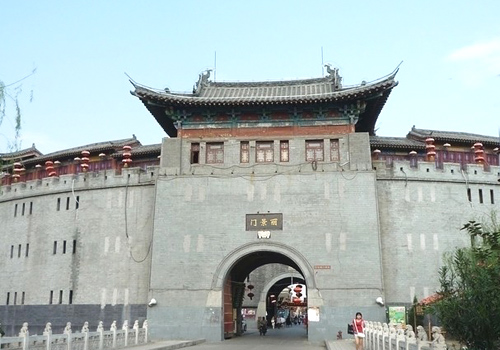 Lijing Gate is the entrance to Luoyang Old Town District. It is the most striking landmark of Luoyang Old Town District. Built in Sui Dynasty (581-618) when Luoyang is the capital, Lijing Gate is the most typical and best of its kind in China. High and thick wall, spacious watchtower and multiple doors constitute a majestic gatehouse. Lijing Gate Scenic Area integrates catering, accommodation, shopping and amusement. It features Hall of Queen of Heaven where to worship Mazu (a goddess in South China and Taiwan), Hall of Nine Dragons where stand sculptures of nine famous emperors of China, Hall of Avalokitesvara, Town God's Temple, city wall, Cultural Corridor for displaying places of interest and celebrities in Luoyang area, Emperor's Archive which introduces 104 emperors who found their capital in Luoyang, etc. Lijing Gate is among eight main sights in Luoyang and opens a window for visitors to learn the history and culture of Luoyang.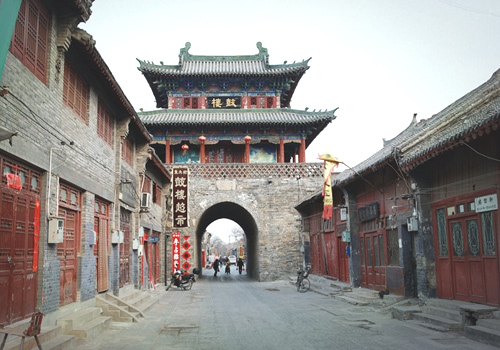 Entering into Luoyang Old Town District, you will be dazzled by the bustling shopping streets and residential alleys, which are decorated with red lanterns. Countless stalls and restaurants line on both sides. In ancient time, merchants streamed in and out continuously and boosted the economy. Even today, Luoyang Old Town District is still flourishing. Many antiques, Tri-colored glazed pottery (tang san cai), calligraphy and painting works are displayed in stalls. Visitors can eat local foods and buy handicrafts at a relatively low price. Water Banquet is the local dining customs. Water Banquet (shui xi) has a history of over one thousand year. It is composed of eight cold and sixteen warm dishes cooked in various broths, hence the name. Luoyang Old Town District also features a Muslim community. Muslim makes distinctive and delicious noodles, which are usually cooked with lamb or chicken in a spicy flavor.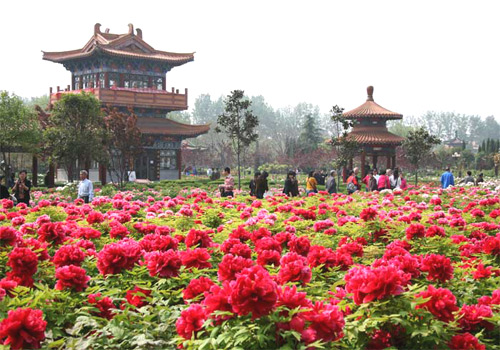 Peony is China's national flower. As a saying goes that ''the peonies of Luoyang is the most beautiful under heaven'', a visit to Luoyang will not be completed without going to a peony garden. There are mainly three peony gardens in Luoyang Old Town District, namely National Peony Park, China National Flower Garden and International Peony Garden. Since all of them are located on the Mengshan Mountain; flowering of peony is a little later than that of downtown area, starting from mid-April to May.

Quick Questions
Our team is waiting for your questions. Please feel free to ask us any questions you might have about our China package tours, Chinese culture, or the sites available. We will gladly help you with any special needs you might have and all questions, like our trip designing is completely free of charge.