Lulang Forest Sea

More Photos

Chinese name: 鲁朗林海 (Lu Lang Lin Hai)
Location: go straight along the Sichuan-Tibet highway, some 80 km from Bayi Town to the east, Nyingchi County, Tibet.
Price: free
Opening time: all day long
Best time for visit: From July to September with luxuriantly grass and trees as well as wild flowers.
How to get there: The way for foreign travelers to enter Tibet is booking a Tibet tour or a China tour containing Tibet with a Chinese travel agent in advance.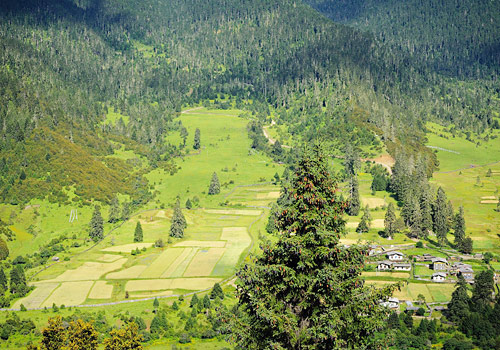 Travel tips:
1. Food: on both sides of the road in the township nearby Lulang Forest Sea, there are a dozen of restaurants mainly provide chickens cooked in stone-pots; kinds of fungi also available in summer.
2. Accommodation: a clean guesthouse is operated in the town and rooms are sold in inexpensive prices; some beds and small rooms in restaurants also sold to drivers or visitors; if stay overnight inside Lulang Forest Sea due to special situations, it is possible to sleep in the wooden houses of local Menba people after asking permission.
3. Shopping: local products in Lulang are fungi, ginsengs and stone-pots which are sold in shops along the Lulang streets. Stone-pots should be booked in advance with pots makers; and the prices of fungi and ginsengs varied from season to season.
4. With a tour plan in depth in Lulang Forest Sea, waterproof clothes, medicines and sleeping bag should be included in package.
5. There is an observation deck built in the attraction of Lulang Forest Sea, which serves some of the most amazing views about the forest sea as well as the Namjagbarwa (the highest peak in Nyingchi with an elevation of 7782 m) in distance.
Introduction to Lulang Forest Sea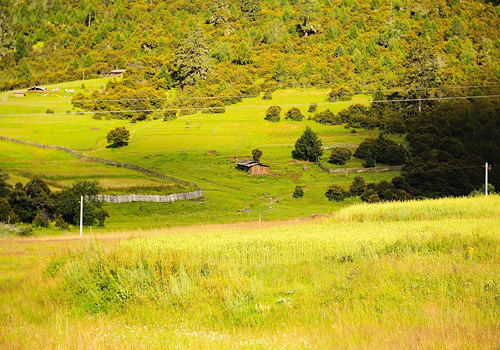 With an altitude of 3700 m, Lulang Forest Sea is a typical plateau-mountain-meadow narrow strip land with a length of 15 kilometers and an average width of 1 kilometer. The whole forest sea of Lulang consists of green bushes, buzzed spruces and pine trees on two flanks and in middle is a neat and uniform meadow, on which are winding streams, murmuring springs, and diversified blooming wild flowers of Primula, Aster, Grass Plum Flower, Pedicularis, etc. with the addition of dotted wooden fences, wooden houses, wooden bridges of peasants and herdsmen live there in sequence, the Lulang Forest Sea composes a quite peaceful and graceful picture.
A fairyland with scenic beauties in different seasons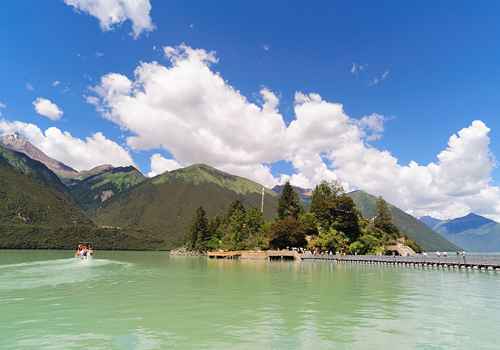 Lulang in Tibetan language is Dragon Valley, or a place that "one will not miss hometown any more". In reality, Lulang Forest Sea is known as a fairyland with scenic beauties that the gods live in. In every spring from April to June, it is a season of full-blown azaleas all over the forest and meadow, which attracts a great quantity of mountain birds; in summer, golden wheat waves with refreshing breezes; in autumn, leaves of trees turn from green to yellow, and then to red from the mountain foot to the top in both sides except the evergreen pines on the hillside; and in winter, distant naked peaks that are covered with pure white snows as well as the splendid glaciers add beauty to the virgin forest of Lulang and its villages and streams. Constantly, white clouds and mist changes their shapes just over the forest sea, sometimes shapes like galloping horses, sometimes like leisure yaks, sometimes run quickly and sometimes quite slowly just as a enthusiastic boy or a graceful girl.
Quick Questions
Our team is waiting for your questions. Please feel free to ask us any questions you might have about our China package tours, Chinese culture, or the sites available. We will gladly help you with any special needs you might have and all questions, like our trip designing is completely free of charge.