Kunming Transportation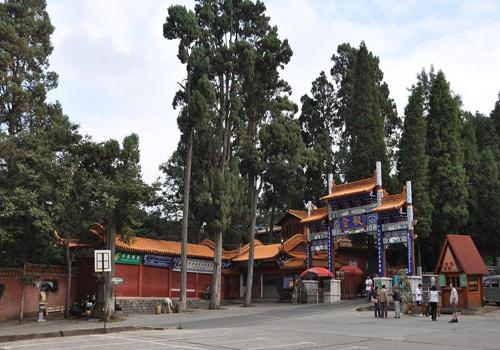 Airport in Kunming
Kunming Changshui International Airport went into operation in 2012. As China's national gateway airport for Southeast Asia, South Asia, and connecting Europe and Asia, it makes Kunming the fourth city in China to have a large national gateway airport after Beijing, Guangzhou, and Shanghai. From January to November 2019, the airport had handled over 44.31 million passengers, ranking sixth in the country.
Located beside Changshui Village, Guandu District of Kunming, Changshui airport is 24.5 kilometers away from the downtown area. Travelers can reach there by airport shuttle bus Line 1, Line 2, Line 3, Line 4, or Line 6, which takes about 40 minutes to arrive. Kunming Metro Line 6 and buses such as No. 919 are also available to the airport.
Railway stations in Kunming
In Yunnan province, train was simply a complementary means of transportation, which could be best elaborated in the saying that trains run no faster than cars. The reason for that is because of the mountainous landscape. But nowadays the situation is different due to the running of the high-speed rail. There are mainly two passenger stations in Kunming, that is, Kunming Railway Station and Kunming South Railway Station(Kunmingnan Railway Station).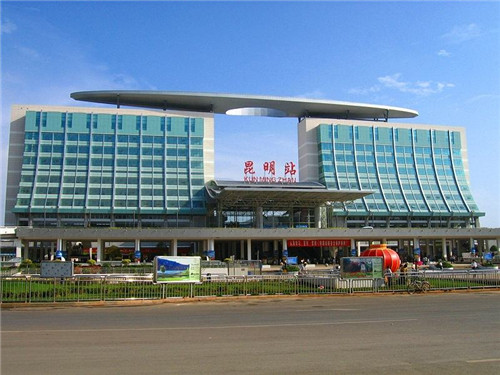 Kunming Railway Station
The railway station was officially put into use in 1970. Kunming Railway Station is an important node of the national railway network and the key point of the southwest railway artery. Since the establishment of the station, the Yunnan railway and the national railway have been interconnected, ending its history of "trains not connected domestically but accessible to abroad". The main lines through Kunming Railway Station are Shanghai-Kunming Railway, Chengdu-Kunming Railway and Nanning-Kunming Railway. Passengers can arrive at the station by taking buses such as No.23, 24, 25, 31, 60, 83, or Kunming Rail Transit Line 1.
Kunming South Railway Station
Kunming South Railway Station is an important infrastructure that radiates to Southeast Asia in China 's "Belt and Road" plan. It is a large-scale comprehensive transportation hub that integrates high-speed rails, subways, buses, taxis and other transportation modes. Being officially put into use at the end of 2016, the station has main lines of Shanghai-Kunming High-speed Railway, Nanning-Kunming High-Speed Railway, and Kunming-Yuxi Intercity Railway. Travelers can take bus such as No. 920, 927, 928, 929, 931, K34, K37, K38 or Kunming Rail Transit Line 1 Chenggong Branch to get to Kunming South Railway Station.
Long-distance bus stations in Kunming
There are five long-distance coach stations in Kunming which have been launched since the year of 2009.
East Passenger Station –located between Hongqiao Interchange and Liangmiansi Interchange in Third Ring East Road, Panlong District, coaches at the station are mainly bound for the east and southeast of Yunnan province.
West Passenger Station –sited on the crossings of Chunyu Road and Yining Road in Xishan District, long-distance buses here are bound for the west of the province.
South Passenger Station –close to New Luosiwan Shopping Mall, coaches at the South station drive mainly for the southwest of the province.
North Passenger Station –located in Panlong District, coaches here are mainly bound for the east and northeast of Yunnan.
Northwest Passenger Station –situated in Wuhua District, coaches at the station drive mainly for the northwest of Yunnan province.
Kunming Rail Transit
Kunming Rail Transit serves Kunming city and its surrounding areas, including the Kunming Metro and the municipal railways. As of June 2018, there were four lines in operation, namely, Kunming Rail Transit Line 1, Kunming Rail Transit Line 2, Kunming Rail Transit Line 3 and Kunming Rail Transit Line 6 (Airport Line), with an operating mileage of 88.7 kilometers. The Kunming Rail Transit long-term planning line network is 562 kilometers long and consists of 14 lines.