Korla in brief
As a key way in Ancient Silk Road with long history, Korla means overlook in Uygur. Located in the center of Europe and Asia Continent and Xinjiang and the northeast margin of Tarim Basin, Korla borders Kuluke Mountain and Huola Mountain (branch of Tianshan Mountain) to the north and Taklimakan Desert (the second largest mountain in the world). Korla is also called Peal City and Oil City because it is rich in bergamot pear and oil. Minorities have occupied 30.1 % of the total population in Korla. There are 23 minorities in Korla: Han, Wei, Meng, Hui, etc.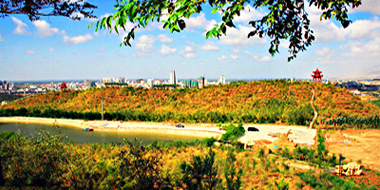 Korla has five superiority resources: light, heat, water and soil resource, oil and gas resource, mineral resource, tourism resource and unique agriculture resource. Kola has a warm temperate continent dry climate with a total sunshine times of 2990 hours, frost free period of 210 days, annual average temperature of 11.4 ℃ and annual average rainfall of 58.6 millimeters. Therefore, it is quite suitable for the growth of bergamot pear, fruits, cotton, tomato, safflower and hop. The long stapled cotton, tomato catchup and wild kinder of Korla enjoy widespread reputation.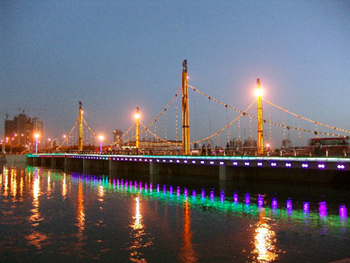 The tourism resources of Korla have distinctive features and Korla was listed on the first Chinese excellent tourism cities list. Basing on natural landscapes and taking ethnic culture as the main part, Korla city has devoted a lot in developing tourism. Korla city is a good place for exploring and traveling. There are many cultural relics inside the city; the most famous one is the Iron Gate Pass. Besides, there are also some ancient city sites and remains in Korla. The Bosten Lake is a nice place for appreciating lotus and sightseeing. The developed tourism projects of Korla include Tianshan Plain, Swan Lake, Kucha Thousand-Buddha Cave, Taklimakan Desert, Silk Road trip, Folk Culture tour of Tianshan herds, exploring tour of Loulan Ancient City, visiting of wild animals in Altun Mountain, etc.


It is a charming modern city combining the prosperity of inner cities and quietness of fortress. You can visit both cultures of Loulan, Milan and Luobuzhuoer, and new city scenery. Unique terrain feature, ethnic culture, Kunlun Mountain peacock, snow mountains, grand plains, vast desert...all gather here.


1. Historical Sites
Korla was a key way in Ancient Silk Road and the territory oh Karashar state and Quli state. At present, there are 14 fist-class national protection units of ancient sites and 40 second-class protection units of ancient sites. More than 240 attractions have been listed into national cultural relics files. Thousands of domestic and foreign visitors and scientific workers have been attracted here.


2. Natural Landscapes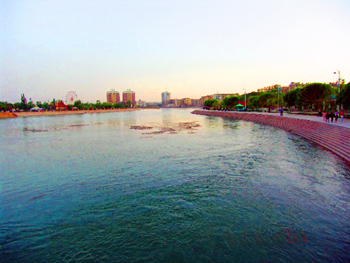 There are lots of special natural landscapes in Korla City as well, such as the vast Bosten Lake, broad Bayinbuluke Plain, mystical Swan Lake, renowned Lop Nor, beautiful Talimu River, grand Tianshan Stone Forest, diversified Ydan Landform (a special landform made by wind erosion), the longest desert road in the world and the 6973-meter-high Muzitaga Icy Mountain. The Peacock River Scenic Spot provide good place for amusement and doing exercises. Sun Island spot, Huyanglin Holliday Village and Longshan Park are ideal summer resort.

3. Ethnic Flavor
As for the ethnic culture, Nadamu of Mongolia and Maixilaifu of Uygur it enjoy popular support and are loved by Xinjiang people.