Jinan Transportation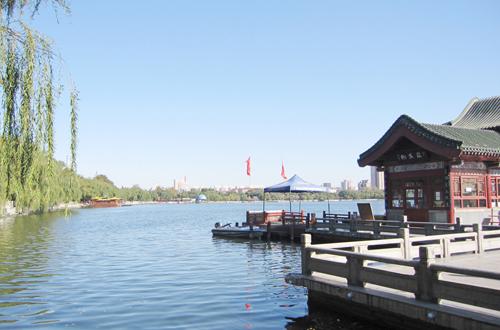 By Air
Jinan is served by Yaoqiang International Airport, which is located in Yaoqiang Town, about 28.5 kilometers northeast away from the city proper. It easily connects with Jinan-Qingdao and Beijing-Fuzhou highways, and only 100 kilometers from Mount Tai, 170 kilometers from the city of Qufu.
The airport has daily flights to most major domestic cities, such as Beijing, Changsha, Zhengzhou, Chengdu, Chongqing, Dalian, Guangzhou, Guiyang, Haikou, Hangzhou, Harbin, Kunming, Nanchang, Nanjing, Nanning, Shanghai, Shantou, Shenyang, Shenzhen, Wuhan, Fuzhou, Yantai, Zhangjiajie, etc. It also has regular flights with Taipei, Hualien and Taichung.
From downtown area to the airport:
- take public buses No.309, 10, or 97;
- take special line bus No.1 (which departs from Jade Spring Senxin Hotel) or No.2 (which departs from Xinzhuang East Airline Building), both are available every hour from 06:00 to 18:00, ride for about 1 hour and charges about CNY20;
- take taxi after 18:00, the cost is about CNY100.
From the airport to downtown area:
- take public bus No.309, 10 or 97;
- shuttle buses from the airport to the downtown Jinan open for 24 hours a day, and the departing time is depending on the flights arrival time; The ticket price charges about CNY20; the buses run in the day time before 18:00 get to the Long-distance Coach Station, and the ones after 18:00 in the evening get to Shunhe Street.
By Rail
Jinan has two train stations, the Jinan Station and Jinan East Station.
Jinan Station is the largest in Shandong Province, and also the most used one by passengers. It is about 490 kilometers apart from Beijing, 968 kilometers from Shanghai and 393 kilometers from Qingdao. In the city, travelers can take public bus No.3, 21 or 83 to get to the station.
As a supplementary station to Jinan Station, the East Jinan Station opens a train to Luoyang and receives trains running between Qingdao and Dandong, Qingdao and Taiyuan, and Beijing and Weihai. Public buses No.14, 30, 37, 83, or 112 can take travelers to the station.
By Road
Jinan is mainly served by two coach stations, the Long-distance Coach Station and the East Coach Station.
The Long-distance Coach Station is located in No.131 JiLuo Road, which can be arrived by bus No.4, 5, 12, 35, 72, 84, 111, 114, k50, k53, k57, k68, k90, k92, k95, k107, k108. It has coaches departing for the cities in the province and neighboring provinces.
Buses No.10, 47, 80, 87, 95, 99, k53, k95, k50 can take travelers to the East Coach Station. The station has trans-provincial coaches to Taiyuan, Shijiazhuang, Puyang, and in-provincial coaches to Heze, Linyi, Qufu, Taian, and so on. In general, in-provincial coaches depart in the morning, and trans-provincial coaches depart in the afternoon. Only 490 kilometers to the capital city Beijing, many coaches shuttle back and forth between Jinan and Beijing
City Transportation
Taxies- in general, the taxi price starts at CNY8 for 3 kilometers, and CNY1.5 for extra 1 kilometer; some high-ranking taxies may pricing higher, starting from CNY10.
Public buses- Jinan has a quite developed public transportation system with two series public buses, the common series and K-series. The common one charges CNY1 and K buses charge from CNY2. Major buses run along tourist attractions are No. Tourist 66, K51, K68, 88, 3, 65 and 5.
Subways- 6 lines are in the planning.